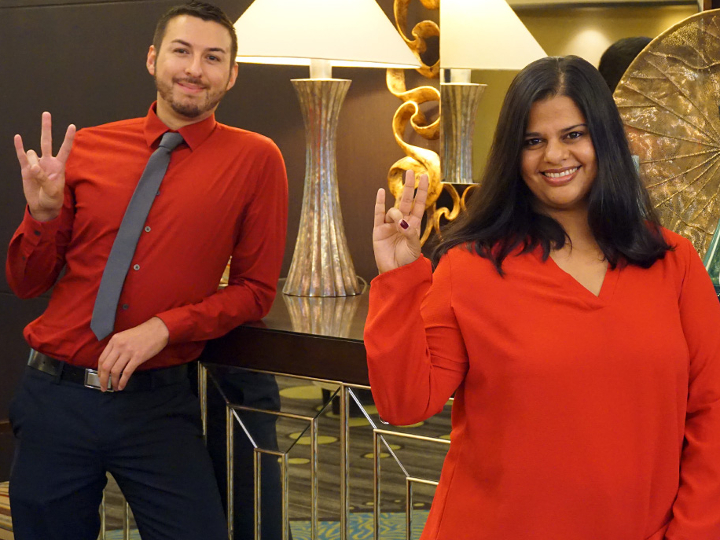 Alberto Beiza wasn't fazed by the fast-paced nature of the business he encountered in more than a dozen Houston restaurant kitchens over the summer. He was there to work – who washed hands and how often? How long did cooks and other workers go before changing to a fresh pair of gloves? Were salads kept appropriately chilled before being whisked to the dining room?
He'll share the answers Thursday, Oct. 12, as 250 students from the University of Houston present their work at the 13th annual Undergraduate Research Day.
Beiza, a junior majoring in hotel and restaurant management, focused on what restaurant workers know about food safety and how that was affected by interventions, including classroom-style lectures and an audit as he and doctoral student Chandler Yu observed life in the kitchen.
Undergraduate Research Day begins with poster presentations at 4 p.m. in the Elizabeth D. Rockwell Pavilion in MD Anderson Library. Oral presentations begin at 5 p.m. Undergraduate Research Day is coordinated by the Office of Undergraduate Research, a component of the Honors College.
Classroom lectures, tests and late-night pizza all are part of the modern college experience. But educators increasingly stress providing undergraduates an opportunity to conduct their own research.
Stuart Long, associate dean of undergraduate research in the Honors College and professor of electrical and computer engineering, said the work yields dividends beyond the research findings.
"These research experiences can help bond students to their major and heighten their academic engagement," he said. "Statistically, they result in higher graduation rates."
Because each student works with a faculty member, the opportunity also builds relationships between students and faculty, Long said.
Edgar Contreras is proof of that. A senior majoring in geophysics, he was a good student but had never spent much time with a professor, not even during office hours. That changed when Jon Snow, professor of isotope geochemistry, approached him last spring about the Summer Undergraduate Research Fellowship, a 10-week research experience.
Contreras spent the summer on a geochemical analysis of a volcanic rock sample found in South Texas, discovering that the chunk of basalt lacked some of the expected minerals, including plagioclase, but instead had a large amount of olivine and zeolites. Taken together, that suggests the sample came from a formation deep within the earth, with the olivine perhaps transported from a different location.
He also learned that faculty are more approachable than he thought. "He was a mentor throughout this whole experience," he said of Snow. "It was the first time I ever went to a professor's office hours. Now I'm not going to be as shy about it." 
Not all of the projects featured at Undergraduate Research Day involve data and lab equipment. DeMointe Wesley, a senior literature major, took a deep dive into "Beloved," exploring what the 1987 novel by Toni Morrison says about the black experience.
A search of the scholarly literature suggested the topic hadn't previously been covered, so Sarah Ehlers, assistant professor of English and Wesley's mentor for the project, helped him compile a supplemental reading list of writers – including Christina Sharpe and Alex Weheliye – whose work reflects that experience. 
"I mapped out what 'Beloved' was saying about black existence," said Wesley, whose minor is African-American Studies. "How do black people deal with that violence without running away? Without death?"
He will discuss that Thursday. But like the other students presenting their work, he also will be celebrating his initiation into the world of research.
And that is the ultimate goal.
"Even if they don't go on to graduate school, research can change their perspective, their personality," said Sujata Sirsat, assistant professor at the Conrad N. Hilton College of Hotel and Restaurant Management, who worked with Beiza during the food safety project. ""It teaches you to be more patient, because you could experience frustrations and delays. However, it is also rewarding when the student's eyes gleam with excitement and joy after a new finding." 
Undergraduate Research Day is supported by the UH Office of the Provost, the Division of Research, the Honors College and the Cullen College of Engineering.
---