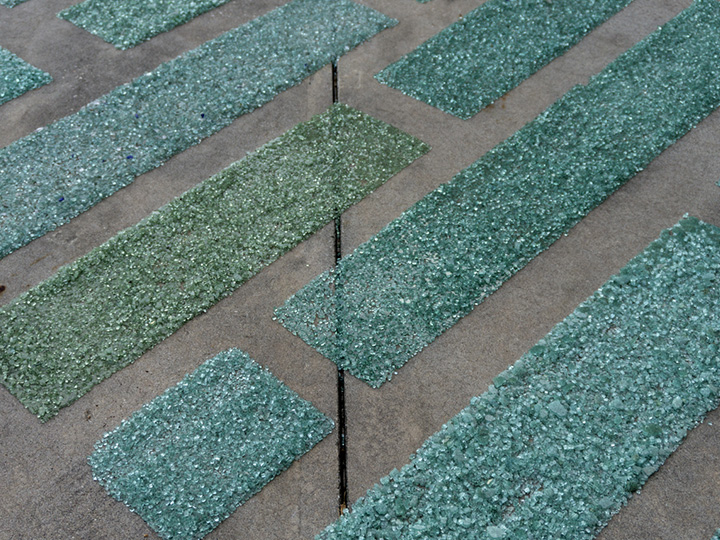 He's not a first responder, but artist Gabriel Martinez will show up after a car accident or a smash and grab to collect evidence, which in this case is shattered glass.
And after months of retrieving hundreds of thousands of pieces, big and small, from the streets of Montrose, Midtown and the Museum District, Martinez, an adjunct faculty member at the University of Houston, is turning those remnants into art for a unique exhibition at Blaffer Art Museum (4173 Elgin St., Houston, TX 77004). The event kicks off with an opening reception from 6-9 p.m., Friday, Oct. 27, and runs through Jan. 27.
Shards of glass are among several discarded waste items Martinez transforms into artistic treasure as part of his first solo exhibition, "Everything Turns Away Quite Leisurely." Martinez also converts oil-stained gas station rags into a quilt of sorts and creates a painting on linen from the dust of a brick found in the streets of Chicago.
Over the last 15 years, Martinez has created a body of work using materials from a number of American cities, including gathering and repurposing street debris and re-using public signage.
"When I am riding my bike, driving my car or walking around Houston, the city is my material. Anything I find on the street is fair game," said Martinez, who hopes the audience will see his work in a new light once it's in the museum space.
"This exhibition is all about uncovering history through materials," said Javier Sánchez Martínez, Cynthia Woods Curatorial Fellow at Blaffer Art Museum. "In this case, it's the brick, the glass, even a newspaper with something printed. This way of working is kind of unearthing the lost histories of public spaces."
Martinez's work is one of two solo exhibitions opening at Blaffer. The other is "Rose-colored Drift/To the Students" by Spanish artist Sergio Prego, featuring sculptures, works on paper and video. The centerpiece is a 14-foot-high domelike inflatable structure made of polyethylene and aluminum tubes that take over the monumental high ceiling gallery at the Blaffer.
The exhibitions, gallery talks and lectures are free and open to the public. To read more about both artists, their works and see a schedule of events, visit the Blaffer Art Museum site.
---