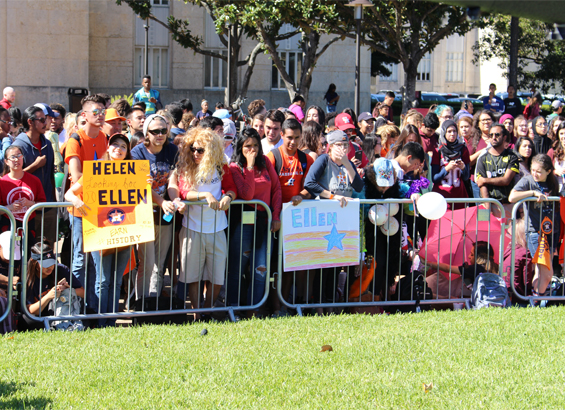 More than one thousand University of Houston students and Astros fans eagerly gathered in front of Cullen Performance Hall on the UH campus Tuesday afternoon for a chance to appear on the Ellen DeGeneres Show.
The buzz began Monday afternoon when host Ellen DeGeneres sent a tweet to her nearly 75 million Twitter followers announcing that she had "something very big planned for tomorrow," telling Astros fans anywhere near UH to "be ready."
With the suspense mounting, a few hours later Ellen tweeted that she was "giving away something huge" at the University of Houston, joking that she wouldn't say what it was, followed by "#WorldSeries tickets."
The Houston Astros are in the World Series for just the second time in franchise history. They are set to take on the Los Angeles Dodgers, a team that is back in the Fall Classic for the first time since 1988.
Combine America's pastime with a city that has rallied around its team following a devastating storm — add free tickets to a World Series game and arguably the most popular talk show host in the world — and needless to say the UH campus was feeling the frenzy.
"This is a great opportunity to show support for our hometown Astros while also welcoming such a witty and positive comedienne via satellite to entertain our students," said Mike Rosen, UH executive director of media relations.
More than a thousand students filled the circle drive in front of Cullen Performance Hall Tuesday morning while Ellen's production crew set up equipment including cameras, speakers and monitors, waiting for Ellen's next set of instructions via Twitter. Just after 12 p.m., she informed UH students that they had three hours until they "need to be at the E. Cullen Building and be on my show."
But if you know anything about Ellen's talk show, which has won an incredible 59 Daytime Emmy Awards, there's often a bizarre request for fans to follow. In this case, because "everything's bigger in Texas," she asked students to "wear the biggest outfit for a chance to win tickets to one of the big games."
Much of the crowd scattered, taking the few hours left before the broadcast to come up with a costume.
The winners will be announced during the satellite interview later today. The segments will air during The Ellen DeGeneres Show, Wednesday, Oct. 25.
This is the second time Ellen has filmed a portion of her show at UH. In February, during Super Bowl week, her show staged a football game at TDECU Stadium between her producer and several retired and active NFL players. The segment was produced as the New England Patriots practiced nearby on the Cougars' practice field.
---