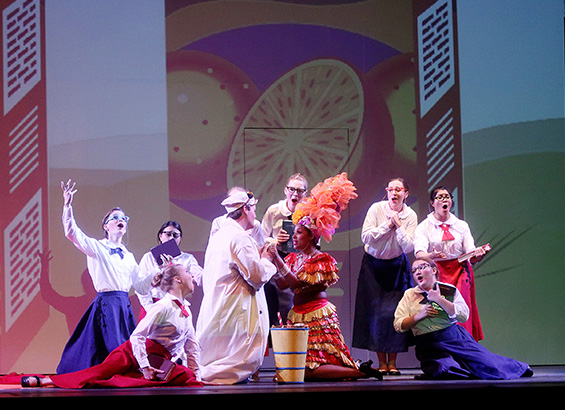 A world premiere and a highly requested revival are among the comedy-filled performances of the 2017-18 opera season at the University of Houston Moores Opera Center.
Back by popular demand after 14 years, "The Love for Three Oranges" kicks off the season with a long weekend run from Fri., Oct. 20-Mon., Oct. 23. The circus-like fairy tale by Sergei Prokofiev is about a cursed prince forced to wander the earth in search of three oranges. Throughout his journey the prince is taken on a rollercoaster ride of good and evil, comedy and tragedy.
Mezzo-soprano Cecilia Duarte plays Smeraldina, a treacherous servant, in "The Love for Three Oranges." This will be her last opera performance at UH before she graduates in December.
"With my voice type, I usually get to play the maid, evil woman, the older person or a guy. It's always really fun. I always get to play really fun, crazy parts," Duarte said.
Another highlight will be the world premiere of "The School for Scandal", Jan. 25-29, 2018, a quick-witted comedy with libretto by Buck Ross, Moores Opera Center director, and music composed by Robert Nelson, former UH professor of music theory and composition.
Based on the 18th century British comedy by Richard Brinsley Sheridan, the opera is set against a background of hilariously malicious gossip in which hypocrites are exposed, ne'er do wells are redeemed and spouses are reunited.
"It's very funny and a great opportunity for the students to work with Nelson on a piece and make changes as they go along," said Ross, who took seven months to complete his portion, which is considered fast for an opera.
Ross summed up the season's four operas this way: "If you are looking for the fastest-moving, most colorful show of the year, it's going to be 'The Love for Three Oranges.' If you are looking for a witty show, you want to go to 'The School for Scandal.' If you are looking for romance, you want to go see 'L'Amico Fritz.' If you want very energetic farce comedy then you can go to 'The Italian Girl in Algiers.' "
The complete 2017-2018 Moores Opera Season schedule is available on the Moores Opera Center website.
---