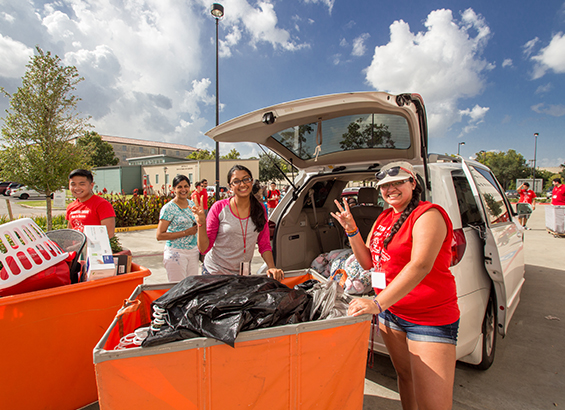 The University of Houston is rolling out the Cougar red carpet for thousands of new and returning Coogs during the annual Cougar Move-In, Thursday, Aug. 17- Saturday, Aug. 19 at all seven UH residence halls.
Nearly 6,500 students will move into Cougar Village 1 & 2, Moody Towers, The Quadrangle, Cougar Place, Bayou Oaks and Calhoun Lofts. It's a monumental task that will require 770 Cougar Mover Volunteers — the largest group to date, to make sure students feel right at home just in time for the new fall semester which begins Monday, Aug. 21.
In an effort to make the moving process quick, fun and safe, volunteers will help students and their loved ones unload their vehicles, transport luggage and boxes to their respective residence halls and unpack.
UH President Renu Khator will greet the students and lend a hand in the big move from 10-11 a.m., Friday, August 18. UH football head coach Major Applewhite will also stop by that day between 10:30-11 a.m. to help.
WHAT: Cougar-Move In at UH Residence Halls
WHO: 6,494 new and returning students and their families; 770 volunteers
WHERE: Cougar Village 1 & 2, Moody Towers, The Quadrangle, Cougar Place, Bayou Oaks and Calhoun Lofts
WHEN: Move-in period: 8 a.m.- 5 p.m., Thursday, Aug. 17- Saturday, Aug. 19
UH President Renu Khator 10-11 a.m., Friday, Aug. 18, at Cougar Village 2
UH football coach Major Applewhite, between 10:30-11 a.m., Friday, Aug. 18, at Cougar Village 2
MEDIA CONTACT: Sara Tubbs at 713.743.4248 or sstubbs2@uh.edu
---