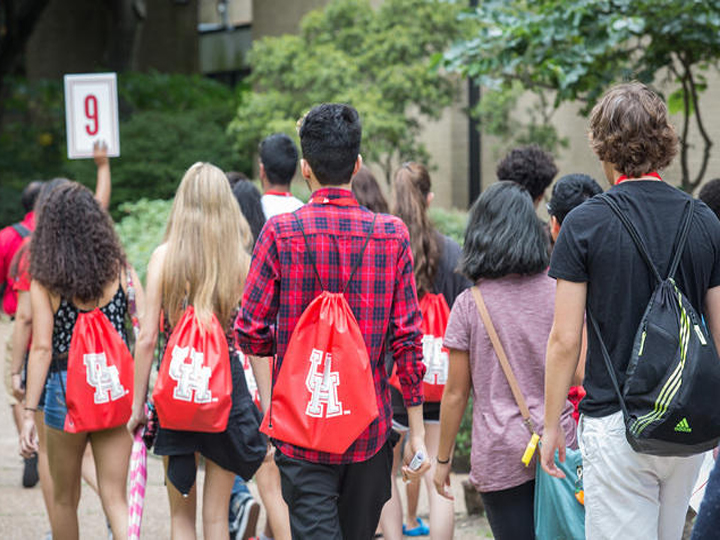 The University of Houston has signed a strategic five-year partnership with the Mexican government that allows more Mexican students to pursue graduate degrees and postdoctoral exchange at UH, while faculty will have more opportunities to come as visiting scholars. In addition, UH students and faculty can spend research time in Mexico. The agreement, funded by Mexico's National Science and Technology Council (CONACyT), is expected to bring hundreds of Mexican graduate students to UH in the coming years, further increasing the university's global presence. 
 Additional partnerships signed with top Mexican institutions of higher education, the National Autonomous University of Mexico (UNAM) and the Instituto Tecnológico y de Estudios Superiores de Monterrey (Tecnológico de Monterrey), strengthen UH's growing reputation as a leader in research and innovation.  The UNAM is the alma mater for three Nobel laureates.
 "This is an invaluable relationship that promotes diversity and expands our graduate programs," said Paula Myrick Short, UH senior vice president for academic affairs and provost. "This window of opportunity is ideal not only to exchange students, but also to strengthen the research collaborations between Mexico and the United States."
 CONACyT offered nearly 63,000 scholarships to students worldwide in 2016 and approximately 400,000 since 1971. Out of those scholarships, more than 60,000 were offered for Mexican students to pursue their graduate degrees internationally.
 The accomplished UH energy program, which offers more than 50 energy-related degrees, in addition to continued success in other STEM fields, was a major factor in CONACyT's decision for the partnership.
 "The Mexican government, CONACyT, only signs these type of agreements with the best universities in the world. They're very interested in our energy program because we're committed to energy-related research, innovation and solutions," said Francisco Robles Hernandez, an associate professor of mechanical engineering technology who will serve as liaison and facilitator of the initiative.
 The partnership furthers the collaboration between UH faculty members and Mexican institutions; faculty already have partnerships with other Mexican institutions. UH Global currently has task forces working in strategic regions and countries to identify and secure similar partnerships in the future.
"Mexico was the first country we identified to partner with because of its close proximity, and common historical and cultural ties between Texas and Mexico. It's a natural neighboring partner," said Jaime Ortiz, vice provost for UH Global. "We hope to replicate this strategic approach around the world in countries such as, the People's Republic of China, South Korea, India, Brazil and Chile."
 In addition to funded students, CONACyT also offers short-term exchange opportunities for graduate students enrolled at a Mexican institution and UH graduate students. The program includes a stipend of up to six months for a master's degree or twelve months for a doctoral degree. For example, Mexican students can conduct research at UH with the intention of receiving their degrees in Mexico, with the hope that students would return to UH for their doctoral degree or postdoctoral research.  The same is possible for graduate UH students to attend Mexican universities.
"UH is constantly searching for highly selective partnerships worldwide, and this partnership lays the groundwork for our students and faculty to define their scholarship globally" said Provost Short. "I can only hope that we continue to make strides in providing a global education for our undergraduate and graduate students." 
---