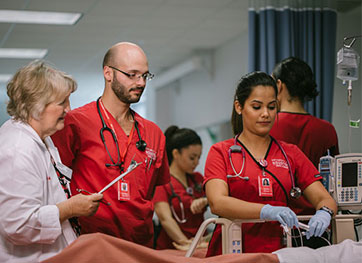 In just over a year since its move to the University of Houston System's flagship university, UH's nursing school has reached its number-one strategic goal on its ambitious timeline. The Texas Higher Education Coordinating Board acknowledged the completion of criteria for reclassifying the school, which officially became the UH College of Nursing March 2. A name-change reception will be held tomorrow. 

"This change comes at a wonderful time in the history of the University of Houston," said Kathryn Tart, founding dean of the now College of Nursing. "We're delighted to be part of this story, helping the UH Health initiative grow and, in particular, becoming part of its mission to serve the community, because that's what nursing is all about."

Reclassifying the school to a college opens the door for providing opportunities for endowed scholarships, professorships and chairs, as well as naming opportunities for the college. It also will help better promote graduate programs in nursing education, with plans to move into doctoral education with Doctor of Nursing Practice and Doctor of Philosophy degrees.

Already offering a number of degree options, UH's nursing program offers degrees to suit all career levels, from freshly minted nurses to experienced nurses wishing to expand upon their training by securing additional degrees. Of particular importance in today's health care climate is the college's Second Degree Bachelor of Science in Nursing (BSN) program.

In its report on the future of nursing, the Health and Medicine Division of the National Academies of Sciences, Engineering and Medicine issued a call to action for 80 percent of nurses to have a BSN degree or higher by year 2020, as well as doubling the number of nurses holding doctoral degrees.

"This has been one of the driving missions of UH's nursing program," Tart said. "Evidence shows having a higher percentage of nurses with a bachelor's degree caring for people in hospitals results in better patient outcomes, as measured by nurse-quality indicators such as fewer deaths, infections and falls."

The Second Degree BSN track is an accelerated, pre-licensure program for post-baccalaureate students who already hold bachelor's or master's degrees in other fields and want to become registered nurses (RNs). The program is designed to facilitate a career change for more mature and experienced students, combining two years' worth of work into 12 months. Upon completion, they can sit for their national licensure exam, and Tart notes that their graduates have accomplished three years of 100-percent, first-time pass rates on the national licensure exam. Compared to 84 percent nationwide and 85 percent in Texas, UH's 100-percent pass rate places the college in the top 5 percent of the nation.

Another bachelor's degree option offered is the RN to BSN completion program, designed specifically for working registered nurses who have completed their associate's degree and subsequent RN licensure. The degree program is for RNs who wish to advance their professional qualifications, while continuing to live and work in the area. Tart says this is part of the reason why the program is based at the University of Houston Sugar Land Campus, with Methodist, Memorial Hermann, CHI St. Luke's, Texas Children's, Oak Bend and M.D. Anderson having hospitals in communities right where the students live and work.

At the graduate level, a Master of Science in Nursing (MSN) is offered, allowing nurses to build upon their BSN degrees to become leaders in advanced practice roles, such as nurse educators, nurse administrators and family nurse practitioners. The MSN family nurse practitioner graduates have had a 100-percent pass rate on their national certification exams each year since the program started. Tart adds that the master's level nursing education track is particularly helpful in light of the current nursing shortage, because the profession is in need of more educators. More educators mean having the ability to admit more students to nursing programs. Additionally, nurse administrators are needed in multiple leadership roles for hospitals, clinics and health care facilities.

"It's remarkable that we've been granted college status in such a short timeframe since coming under the umbrella of the University of Houston from UH-Victoria," Tart said. "UH Provost Paula Short, who championed this reclassification, was integral to us reaching this milestone a year and a half ahead of schedule."

An unveiling ceremony of the new logo and signage will take place March 9 at the Sugar Land campus. The College of Nursing will become the 14th college at the University of Houston.
###
Link: http://www.uh.edu/news-events/stories/2017/March/030817NursingCollege.php
About the University of Houston
The University of Houston is a Carnegie-designated Tier One public research university recognized by The Princeton Review as one of the nation's best colleges for undergraduate education. UH serves the globally competitive Houston and Gulf Coast Region by providing world-class faculty, experiential learning and strategic industry partnerships. Located in the nation's fourth-largest city, UH serves more than 42,700 students in the most ethnically and culturally diverse region in the country. For more information about UH, visit the university's newsroom at http://www.uh.edu/news-events/.
For additional news alerts about UH, follow us on
Facebook
and
Twitter
.
---