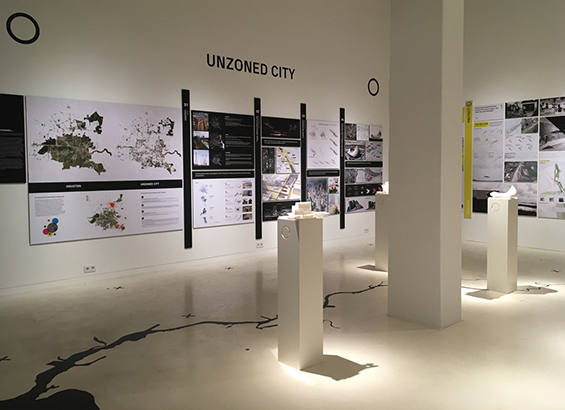 A virtual reality (VR) simulation of the future of downtown Houston and unique challenges the city will face in the near future, including reinvention of current energy infrastructure and changing real estate and density, are on display in Berlin, Germany this week at the world-renowned Aedes Architecture Forum.
Students from the University of Houston Gerald D. Hines College of Architecture and Design are traveling with their year and a half long project called "Houston: Genetic City."
"Since we are Houston's university, what could be a more fitting subject for these UH students than our city's future? This project reflects the University's commitment to identifying real-world problems and providing innovative solutions," said UH President Renu Khator. "On a professional level, I'm proud of the international recognition this brings UH and, on a personal level, I'm delighted to observe this extraordinary exhibition first-hand."   
Using new VR technology along with Oculus, participants will be able to immerse themselves in the innovative student designs. The exhibition will also feature displays of computer generated renderings and drawings and 3-D printed models.
The college's namesake Gerald D. Hines, his wife Barbara and Pritzker Prize-winning architect Thom Mayne of Morphosis are joining the University of Houston group in Berlin..
"It is fascinating to view this future scenario of Houston through the eyes of these talented, young architects, and on such an international stage," Hines said. "In the nearly two decades my name has been on the College, University of Houston has delivered on the promise of creating a better built environment through the talents of future leaders in architecture and design."
Thom Mayne served as a studio consultant and will also participate in a symposium with Aaron Betsky of the Frank Lloyd Wright School of Architecture at Taliesin. The symposium, "Future Urbanism: Genetic Cities" will discuss the student's work and the uniquely evolving development of Houston. Students tackled issues including the reinvention of current energy infrastructure, changing real estate and density and ways in which the city's lack of zoning can generate new ideas.
"It is a tremendous honor for our students to be able to exhibit their work in an architecture gallery as renowned as the Aedes Architectural Forum, an international venue for the giants of the profession," said Patricia Oliver, dean of the Gerald D. Hines College of Architecture and Design.
Recent UH graduate Patricia Marcine is showcasing her work at Aedes. For her project, she researched studies that show how climate change will lead to yearly flooding in Galveston by the year 2050. Marcine's designs offer possible solutions.
"It's all about raising up living spaces and turning the flooded areas into recreational areas, lifting up our transportation system, moving away from gas powered vehicles and really just trying to tackle all the problems at the same time," she said.
Photos of the exhibition at Aedes can be found here. In addition, the students' work will be published in a book that will be available this fall. Click here to read more about the UH project.
---