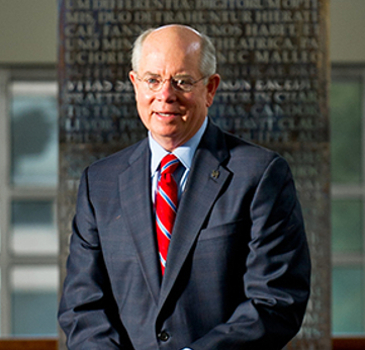 The online graduate degree program at the University of Houston College of Education is among the best in the nation, according to the 2017 U.S. News & World Report rankings released Tuesday.
The influential rankings listed the College of Education programs at No. 2 among 278 colleges that offer online graduate programs in the education field. The program allows students to specialize in math education, early childhood, higher education, special and gifted education or health science education.
"The college's high ranking underscores our commitment to engaging online instruction that meets the needs of our busy students," said College of Education Dean Robert McPherson. "Our expert professors offer personalized feedback and ensure our lessons are relevant to students' career goals."
With an internet connection, students from across the world can earn a master's degree in less than two years. Instructors undergo 100 hours of training in distance education, and class sizes average 15 students, allowing for more individual attention. Students from Houston interact with those as far away as Hong Kong in online discussion boards.
"As online education becomes more ubiquitous, it highlights the demand for more personal learning environments," said Catherine Horn, an associate professor in the higher education program. "I think we're successful because we have highly-qualified instructors who are willing to go the extra 10 miles."
One of the college's unique online programs targets doctors, nurses and other medical professionals who want to bolster their teaching skills. They earn a master's of education in curriculum and instruction with an emphasis in health science.
Dr. Dana Foradori, an assistant professor of pediatrics at Baylor College of Medicine who earned her master's of education from the college in December, said she appreciated the flexibility and faculty expertise.
"The faculty who have specialized in helping the Texas Medical Center group have really gone out of their way to make it a valuable experience," said Foradori, 31. "I couldn't imagine a better program for a medical educator."
While in medical school, Foradori focused on the technical skills needed to become a doctor. Once she became a supervising resident, however, she realized she needed teaching skills to better train new residents and medical school students. Now, Foradori plans to use the strategies she learned in the master's program to design a curriculum to promote wellness among physicians.
"The skills they get in a lot of the courses are designed to help them in their professional lives right away," said Bernard Robin, associate professor and coordinator of the graduate health science program.
For the rankings, U.S. News & World Report evaluated online graduate programs based on student engagement; student services and technology; admissions selectivity; faculty credentials and training; and peer reputation.
The college received high marks for the variety of technical tools used, including audio, video and smartphone display. In addition, students in the online program have access to academic advising, career placement assistance and financial aid services.
---