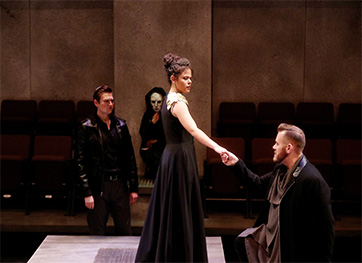 Julius Caesar and his populace are taking center stage at the University of Houston. Students from the School of Theatre and Dance in the Kathrine G. McGovern College of the Arts will be performing the classic with a modern-day twist Feb. 17-26. In the UH adaptation, the Roman dictator and other prominent characters are female.
Inspired by the global gender parity movement, director Sara Becker cast the play with six men and six women. Becker also adjusted the script to reflect the gender change, yet kept the classic Shakespeare rhetoric.
Becker, a voice and dialect coach, and Maddie Calais, who portrays Caesar, talk about the uniqueness of this adaptation and why now is the right time to do Julius Caesar. 
Q: What do you bring to this story that is different from the Elizabethan audience?
Becker: When Shakespeare was writing this play and when it was performed, women weren't allowed on stage. In our world, not only are women allowed onstage but also they have access to fine educations and are increasingly making their way into the corridors of power.
Q.  Why do you feel doing Julius Caesar in this modern fashion is so important?
Calais: No matter what the political climate or what's happening in the world, I think this show will always be relevant. It reminds the audience to not be easily swayed just because a person is in power or is approved by a large group of people. I really hope people come out of this saying 'I am going think for myself, and I am going to second guess what this person is telling me and do my research before I am convinced'.
Q: The production is done in the round. What is the reaction you hope to get from the audience?
Becker: I hope this communal event makes them think. You can look across the actors and see the audience.  We can all share space, think about leadership together and walk out having had a deep, timeless discussion.
Q. Does playing the role of Caesar give you a certain type of confidence?
Calais: When we were blocking the show, Sara Becker had me in the middle the whole time, and that is when I realized the level of power this character has. I also realized the importance of having such a strong ensemble around me. This role has helped me, as Maddie, be more assertive.
Q. How does this version of the play push the Theatre and Dance program and the McGovern College of the Arts to another level?
Becker: I think because this speaks so directly to the times that we are living in and the things that we care about. It really speaks to how relevant arts are now and how we need a place to go.  We need a place to go where we can have deeper conversations about things. We have to go to our good writers and have the skills to do this … well, because it's our responsibility.
Julius Caesar is at the Quintero Theatre and runs through Sunday, Feb. 26. Tickets are available online.
---