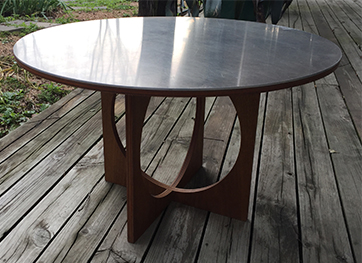 Houston architect and educator John Zemanek is known for his impact on the local architecture scene and on the countless students he taught during his nearly 50-year career as a professor at the University of Houston Gerald D. Hines College of Architecture and Design.
What is lesser known about Zemanek, who died last April at the age of 94, is that he had a passion for painting and designing furniture. Items such as tables and chairs made of walnut, cedar and aluminum, along with canvases of pastels and watercolors were scattered throughout the three award-winning Montrose area homes he built.
Nora Laos, lecturer at the Gerald D. Hines College of Architecture and Design and close friend of Zemanek, spent a lot of time in those contemporary homes, but it wasn't until recently that she realized he had created the pieces she admired.
"I didn't know that some of the paintings on the walls were by him. I didn't know all of the furniture he designed. I have the impression that this was a side of him that isn't very well known," Laos said.
Now, more than 40 pieces of his little-known works of art will be on display during a commemorative exhibition, "Unembellished Integrity: Furniture and Selected Paintings of John Zemanek, FAIA." The exhibition opens Tuesday, February 7, with a reception at 6 p.m. at the college's Mashburn Gallery and runs through March 3.
The paintings and furniture cover a 70-year span and draw influence from his upbringing on a farm in Fort Bend County and his time living in Asia as a young adult. They were willed to friends and relatives who loaned them for the exhibition.
Alberto Bonomi, alumnus of the Gerald.D. Hines College of Architecture and Design, is one of those friends. In fact, Bonomi built many of Zemanek-designed furniture pieces that will be featured in the show.
"He wasn't interested in things that were decorative," Bonomi said. "He went for things that were the most straightforward and logical."
Patrick Peters, another longtime friend and UH architecture professor, calls the show a celebration of Zemanek's life and work and a true representation of his character.
"He's had an impact on so many people; not just those who formally studied in his classroom, but also those who have come to Houston and discovered his work," Peters said.
---