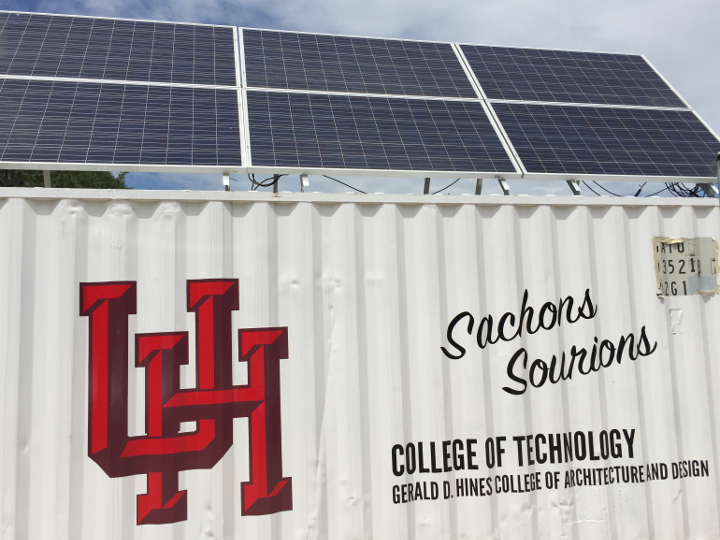 A student-designed mobile computer lab, powered by solar energy and housed in a metal shipping container, is on display on the University of Houston campus Thursday before being shipped to Africa, where it will be used to improve literacy rates in Mali.
The lab was a project for computer engineering technology students, who painted the container and connected the solar panels that will power the lights, air conditioning and laptop computers inside. Students from the UH industrial design program created the furniture, lighting and other "human factors" inside the 19-by-7 foot space.
Dr. Richard Jackson, an internal medicine specialist from Houston, approached students with the idea more than a year ago, an outgrowth of his longstanding work to improve educational and health outcomes in Mali.
The former students who worked on the project, along with Jackson and administrators with the UH College of Technology, will discuss the project at 4 p.m. in Room 101 of the Technology Annex. The mobile lab will be open for tours beginning at 4:30 p.m.
It will be donated for use in Mali through the Mali Nieta Foundation, a nonprofit organization created by Jackson and a former patient, Garba Konate. Illiteracy is high in Mali, and parts of the country do not have reliable electrical power. The mobile lab is designed to be self-sufficient and can be moved about the countryside to meet local needs.
WHAT:                                Mobile computer lab, designed by UH College of Technology students to fit within a
                                              shipping container and powered by solar panels
WHERE:                              Room 101 in the Technology Annex; mobile lab is parked next door
WHEN:                                4-6 p.m. Thursday, May 25
MEDIA CONTACT:          Jeannie Kever, 713-743-0778, m – 713-504-3769, jekever@uh.edu
---