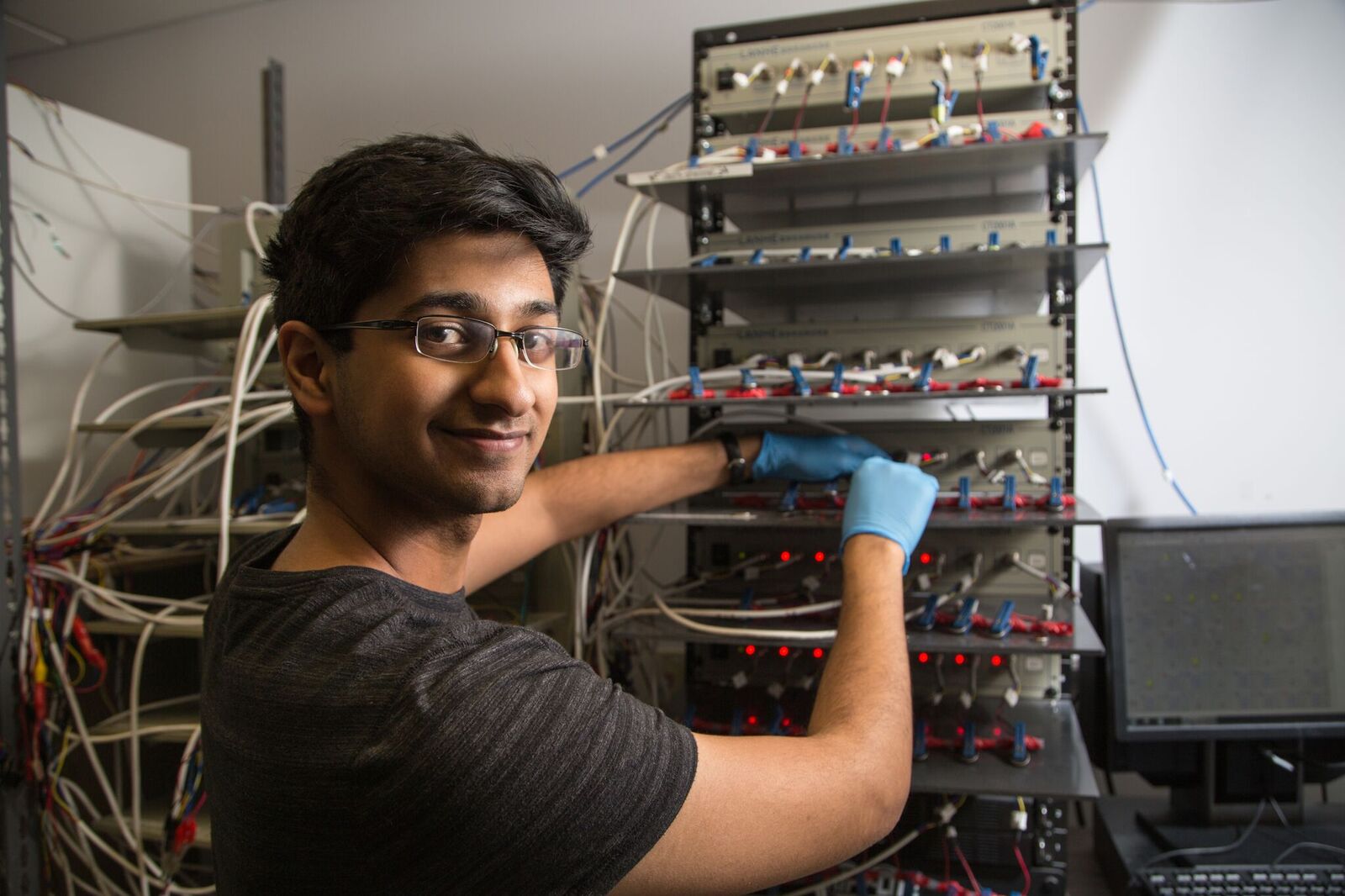 From portable electronics to transportation and sending satellites into space, the quest for a better battery – lighter, safer, longer lasting – is drawing increasing interest in the scientific community. A chemical engineering graduate student from the University of Houston has been awarded a NASA Space Technology Research Fellowship to identify new materials for next-generation batteries.
Karun Kumar Rao will work with NASA researchers, as well as with two mentors at UH to discover new materials that can be used for a solid-state electrolyte in a lithium battery.
Lars Grabow, assistant professor of chemical and biomolecular engineering, and Yan Yao, assistant professor of electrical and computer engineering, will work with Rao on the project. 
Rao earned an undergraduate degree in chemical engineering at Case Western Reserve University, where he conducted research involving electrochemistry. He co-authored three academic publications as an undergraduate.
Furthering his work in energy seemed a logical next step.
"The ease of energy generation and storage has a huge influence on the quality of everyone's life" Rao said. "Everything about energy is really vital to our society, and with batteries, even incremental improvements can have big impacts."
His research will deal with developing a solid-state electrolyte for advanced lithium batteries. Conventional lithium ion batteries use an organic liquid electrolyte.
That is effective but also can be dangerous, Rao said, as illustrated by the recent high profile battery fires involving Samsung mobile phones and battery-operated hoverboards.
Ceramic solid-state electrolyte materials aren't flammable but are less efficient. Rao proposed using a combined computational and experimental approach to investigate a family of crystalline solid state electrolytes for a lithium battery that can balance safety and high performance. Computational models will allow for rapid screening of different materials, structures and geometries and will be verified and guided by experimental data collected through electrochemical characterization and battery testing, he said.
This new project builds upon previous collaborations between Grabow and Yao. Grabow has expertise in modeling and predicting material properties using high-performance computing infrastructure, while Yao designs advanced materials for numerous applications for energy storage and batteries.
Grabow said he was immediately excited about the project. "Adding the computational design of novel battery materials to my group's research portfolio has been a long-standing goal," he said. "Being able to benefit from Karun and Yan's expertise in this area will greatly reduce the steep learning curve."
Yao said Rao's selection for the NASA fellowship and the opportunity to work more closely with Grabow offer new opportunities.
"In the past, the development of safe and high-energy batteries in my group was made largely through experimental approaches, often by trial and error and largely depending on our experience and intuition," Yao said. "Computation has now become an important tool by providing insights into fundamental processes that are not otherwise accessible, as well as quantitative comparisons with experimental results."
Rao combines both methods, which Yao said is rare in the battery field.
The work could lead to batteries that are more powerful but lighter in weight. That would have important applications for space technology, from satellites and telescopes to the international space station and rovers.
They would be safer, too, Rao said. "Everywhere you look, people need better batteries that are safe to use," he said. "Solid-state batteries can potentially enable more advanced mobile devices and electronics but we're not there yet."
---