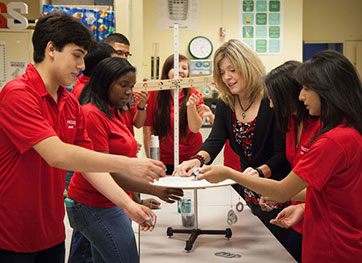 Answering the call for more high school math and science teachers, the University of Houston is using a $1.45 million National Science Foundation (NSF) grant to bolster its
teach
HOUSTON math and science teacher preparation program in a big way.
Now in its ninth year,
teach
HOUSTON was awarded the five-year grant from the NSF's Robert Noyce Scholarship Program to further its mission of supporting future teachers in the STEM fields of science, technology, engineering and mathematics, as well as promote long-term teacher retention. The funds are being used to introduce a new program that offers scholarships, professional development and mentoring.
A collaboration between the College of Natural Sciences and Mathematics (NSM) and the College of Education, the
teach
HOUSTON program addresses the shortage of qualified STEM teachers in secondary education. Students enrolled in this track participate in field-based teaching experiences throughout the four years they are working on their bachelor's degree, graduating not only with a math or science degree, but also a teaching certificate.
"This track, which acts as a students' NSM capstone, offers hands-on teaching experience, develops effective communication skills and gives students the option of teaching after graduation," said Paige Evans, a clinical associate professor with
teach
HOUSTON and principal investigator (PI) for the grant. "This grant will help us provide our pre-service teachers and graduates with the support they need to be successful."
Together with her co-PIs – associate professor of physics Donna Stokes, assistant professor of biology and biochemistry Steven Bark and associate professor in the College of Education Catherine Horne – Evans will establish UH-LIFE, which is short for University of Houston: Learning through Informal and Formal Experience, to augment existing
teach
HOUSTON activities. Specifically, this new program will provide scholarships for pre-service STEM teachers and support the creation of the Noyce Professional Development/Mentoring Institute, which will pair current students with
teach
HOUSTON graduates.
"This institute will connect graduates with undergraduates, so that when students graduate and start teaching, they will already have a mentor in place to help them," Evans said.
As part of this institute,
teach
HOUSTON will host undergraduates for a week in the summer to spend time with UH alumni who are working as teachers. Professional development activities will include the exchange of lesson plans and techniques for managing classrooms. Current
teach
HOUSTON students also will be given the opportunity to work as camp counselors in a summer STEM camp for middle school students. Facilitating STEM activities provides them with valuable hands-on experience, as well as teaches them how to pass along their own enthusiasm of STEM to their future students.
"The
teach
HOUSTON program is great, because it advocates hands-on learning for students," said Jamie Lehnen, a current Noyce scholar with a major in biochemical and biophysical sciences and a minor in chemistry and education. "The program's long-term goal is not just to improve test scores and help students graduate. Rather, the program's largest goal is to make science and mathematics enjoyable to students by showing them how applicable STEM is. We want students to learn by experimentation, by active collaboration and by thoughtful inquiry, which will help them retain the concepts."
Another component of the UH-LIFE program will be to establish a collaboration with Wharton County Junior College, with Wharton students being given the opportunity to enroll in this track and participate in summer institute activities at UH.
"Students can take the first two courses while they are at Wharton, where they'll also be given opportunities to participate in internships at UH," Evans said. "Then, when they transfer to UH, they'll already have a sense of belonging."
That sense of belonging is especially important when studying STEM, said Lehnen, noting that sometimes STEM education can be dismaying and a lot of hard work.
"You need to find a community or network of people you feel encouraged by and have a support system that applauds your efforts, supports your failures and, ultimately, solidifies your passion for STEM and education," Lehnen said. "One community always willing to lend you support is
teach
HOUSTON. Over time,
teach
HOUSTON becomes your family."
Jessica Itzep, a biochemistry and biophysics senior in the program and also a current Noyce scholar, echoes this sentiment.
"
Teach
HOUSTON is a tight-knit community composed of other NSM students who share the same passion for science and, like me, also want to convey that passion to others," Itzep said. "This program offers a variety of unique opportunities for those who enjoy science and wish to reach out to others academically."
The Noyce grant will fund 72 scholarships for students with junior or senior standing. Eight scholarships will be offered during the first year, with 16 scholarships per year being offered during years 2-5 of the grant. Seventeen percent of these scholarship funds will be designated for Wharton College students who have transferred to UH, while the remaining scholarships will be available to all
teach
HOUSTON students.
"This grant will let us increase the level of support we can offer, both to pre-service teachers and to graduates of our program who are currently teaching," Evans said. "Our goal is for every student to have a scholarship during their semester as a student-teacher so that they have the financial support they need to focus on their teaching. The support from this grant is critical for the long-term retention and success of teachers."
Lehnen and Itzep agree.
"I am very grateful to have received the Noyce scholarship and have access to all of the wonderful professional development opportunities that came along with being a Noyce scholar," Itzep said. "It was a great financial relief and with it I have been able to attend a conference where I was able to expand my professional network and make friends from the Noyce community."
Lehnen adds, "Getting this scholarship means I have more time to enjoy my education and to pursue occupations I love. I don't have to stress so much about tuition and book costs, which means instead of waiting tables or working full time, I can go into the local area and teach."
Throughout the life of the grant, Cheryl Craig with Texas A&M University will serve as the program's external evaluator, conducting research on the grant to determine whether it effectively meets its goals. For more information on the
teach
HOUSTON program, visit
http://teachhouston.uh.edu/
or call 713-743-8644.
###
Link:
http://www.uh.edu/news-events/stories/2016/October/102016NSFteachHoustonSTEMprep.php
Twitter handles: @NSF * @uhcoe * @UHouston * @UH_NewsFacebook pages: TeachHOUSTON * National Science Foundation (NSF) * UH College of Natural Sciences & Mathematics (NSM) * University of Houston College of Education * University of HoustonHashtags: #STEM #teachers
About the University of Houston
The University of Houston is a Carnegie-designated Tier One public research university recognized by The Princeton Review as one of the nation's best colleges for undergraduate education. UH serves the globally competitive Houston and Gulf Coast Region by providing world-class faculty, experiential learning and strategic industry partnerships. Located in the nation's fourth-largest city, UH serves more than 42,700 students in the most ethnically and culturally diverse region in the country. For more information about UH, visit the university's
newsroom
.
To receive UH science news via email, sign up for
UH-SciNews
.
For additional news alerts about UH, follow us on
Facebook
and
Twitter
.
---