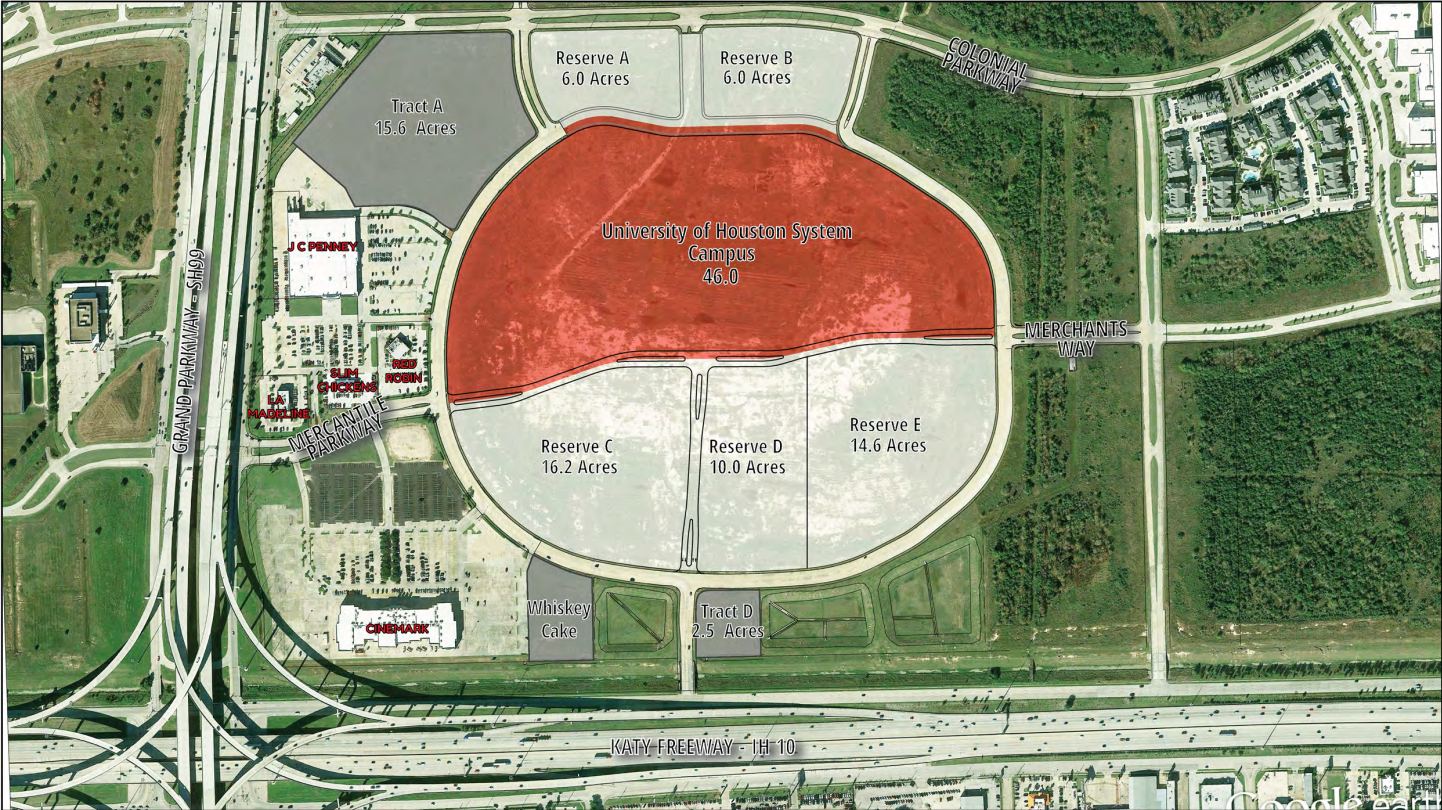 The University of Houston System has completed the purchase of 46 acres of land in Katy from Parkside Capital. The land is located at the northeast corner of I-10 and the Grand Parkway and will be developed into a campus serving West Houston. Academic programs from two UH System universities, the University of Houston and the University of Houston-Victoria, will be offered at the new campus.
The 46 acres purchased by the UH System is part of a larger 125-acre site that UHS and Parkside Capital have rebranded as University Center, a master-planned, deed restricted, mixed-use development. Parkside Capital will soon begin design and construction of all interior infrastructure including streets, utilities, lighting and landscaping.
"We are excited to welcome the University of Houston and UH-Victoria to University Center," said John S. Moody, Parkside Capital CEO. "We look forward to working with the UH System to create a first-class environment."

The UH System will construct an 80,000-square-foot building at University Center, expected to open for fall 2019. The project is in the design phase, and construction is expected to begin in August 2017. The campus is expected to initially serve 2,000 students, but the master plan includes 500,000-square-feet of space that will eventually be able to accommodate 8,000 to 10,000 students.
"Residents in this area have a need for higher education, but it can be a hardship to travel all the way across Houston in order to go to school," said Paula Myrick Short, UH System vice chancellor for academic affairs. "The UH System's expansion will give residents in parts of Harris, Fort Bend and Waller counties an opportunity to earn their degrees closer to home."
Expanding higher education opportunities in West Houston has long been a priority for regional leaders and the UH System, which has offered programs in the area for 30 years. UH and UHV both offer classes in Katy at separate leased locations. They previously offered academic programming at the System's Cinco Ranch site, which is being sold.
The purchase of the land and the construction of the building in Katy are funded by $46.8 million in Capital Construction Bonds approved during the 84th session of the Texas Legislature. The UH System assembled a task force to assess the educational needs of West Houston, and an independent demography study was conducted to determine the ideal location of a campus that would be accessible and visible.
"This site is well-suited to meet our needs," said Short. "It allows the System room to grow strategically with the population increase that is expected in this area."
According to data from the Katy Area Economic Development Council, the population of the Katy area is expected to increase from 317,000 residents to 550,000 within the next 20 years, and about 200 companies are headquartered there, including many in the energy sector.
---