Sophie Paine found her way to the University of Houston from Melbourne, Australia to study kinesiology and play volleyball. This May she'll celebrate two great accomplishments: earning a Bachelor of Science in Kinesiology- Health Professions and earning a place on the Australian Senior Women's Volleyball Team, also known as the "volleyroos."
"I'm so grateful to have this opportunity," Paine said. "I've been playing volleyball since the seventh grade. I played through high school and for the Junior National Team. This will be my debut with the Senior team and I'm definitely excited to be part of it."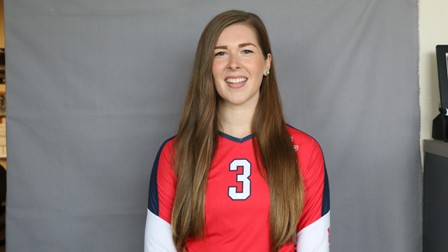 Paine came to the UH on a scholarship, with an aim to focus on two of her favorite things — volleyball and school. She planned to pursue a graduate degree in occupational therapy, but she also wanted to compete on the court. There are no competitive college sports in Australia, though students can play intramural sports. She had never been to the United States before arriving at the University three years ago.
"This sounds so terrible, but I really expected tumbleweeds, horses and cowboys," she said. "I love Houston and Houstonians, who are very similar to Australians — very easy to get along with."
Throughout her academic career, Paine has maintained between a 3.9 and 4.0 grade point average.  No small feat considering daily four-hour practices and travel game days with the UH Women's volleyball team, where she plays setter. Her teammates named her team captain in 2015.
"I take school very seriously. It's a high priority for me, but the balance is tough," Paine said. "It's about time management. I was on scholarship. Someone is paying for me to be here and doing well is the least I could do. I felt it was my responsibility."
Over the 2015 Christmas break, Paine received a call from the coach of the Australia volleyball team, asking if she was interested in joining the team. After sending game highlights and participating in Skype interviews, her next adventure was planned.  
Some of her family will travel from Australia for the University-wide commencement and Department of Health and Human Performance convocation ceremonies with the College of Liberal Arts and Social Sciences. Then she'll be off to Australia to join her new teammates on the Senior National Team. The games will take her all over the world and possibly to the Olympics in 2020, and Paine says she'll always take the University of Houston with her.
"You're a Coog for life.  I'll always be UH for sure," she said.  
---