Team VacuuTherm may be earthbound, but the fruits of their labors will not be.
A group of University of Houston students has completed an ambitious senior project, refurbishing an out-of-date vacuum chamber at NASA's Johnson Space Center that now will be used to test components bound for the International Space Station and, potentially, Mars or other deep space destinations.
"It's a once-in-a-lifetime opportunity," said Phillip Stephens, who led the student team. "How many other college students can say they worked at NASA?"
The five-member team – Ruben Rodriguez, Scott Rodriguez, Joseph Settles and Angela Velasquez, along with Stephens – all are graduating from the College of Technology's mechanical engineering technology program, which requires students to complete a senior design project.
Their advisor, Medhat El Nahas, instructional assistant professor of mechanical engineering technology, said the goal is to ensure students have hands-on knowledge, as well as understanding the theory behind it. "If we don't have a product, we feel we have failed," he said.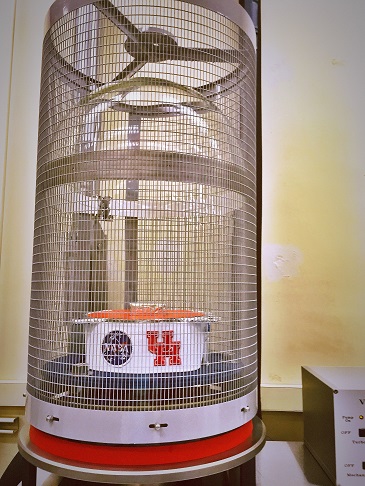 The students shared a class last summer and decided to work together on the senior design project. They considered several ideas, but Settles had a suggestion that captured everybody's interest. He is an engineering technologist at Johnson Space Center, and he knew an outdated vacuum chamber in one of the materials labs there needed refurbishing.
The chamber had been used from 1989 until 2008. It no longer could reach the needed conditions – heating and cooling elements to achieve a 500-degree temperature span and simulating pressures ranging from those of low-earth orbit to conditions in deep space. Researchers have a new, larger vacuum chamber, but the 100-liter chamber works more quickly and is less expensive to operate.
The students sent a proposal to Settles' supervisor, Evelyne Orndoff, soft goods design and testing team lead at NASA.
NASA already had a Space Act agreement with UH, and Orndoff said the project was added to the existing agreement.
The lab handles pre-testing and certification of components used in NASA projects. That typically involves equipment needed for the International Space Station, but it could include components for the Orion program or a future trip to Mars or another deep space goal, she said.
The newer chamber is more expensive to operate and is typically used after the hardware has been assembled. If a problem is detected, engineers trouble-shoot to determine which component is at fault. Individually testing components before assembly could avoid that issue, Orndoff said.
The students conferred regularly with NASA engineers, but Orndoff said they also contributed ideas of their own. "We benefit from having a whole team to share minds on a project."
They chose a name, Team VacuuTherm, and devoted endless hours to the work, spending every Wednesday in the NASA lab, using the College of Technology machine shop to make some components and figuring out how to order parts and materials through NASA's procurement system.
"Each step has been a learning curve," Settles said, as the students even formed relationships with NASA vendors, getting three quotes for every item. "That's part of being an engineer," he said.
Orndoff said the lab has customers waiting to use the refurbished chamber. "There was a demand for this level of testing," she said. "It has been a mutual benefit. The students learned, and we get the small vacuum chamber back."
---