Whether the Cougars are winning or losing, the University of Houston's cheerleaders are always ready to put hope in the hearts of fans ... and smiles on their faces. The squad is among UH's most visible spirit ambassadors and soon will be taking Cougar Pride on the road. In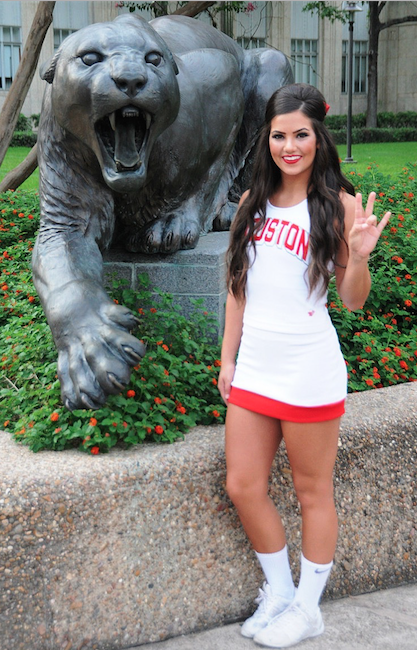 April, the 17-member cheer squad and mascots Shasta and Sasha will head to Daytona Beach, Florida to compete in the National Cheerleaders Association (NCA) College Nationals.
The competition will take place April 6 – 10. This is UH's second consecutive trip to Daytona Beach for this prestigious competition. The Cougar cheerleaders will compete against 10 other university cheer teams in the divisions Intermediate Coed 1 and 2.
"It's great to show off our hard work at this competition," said Jasmine Arnold, UH cheer coach. "It gives us a chance to show our skills and how talented our students are. We also have the opportunity to showcase our game day routines. It's definitely an exciting time for our students."
The competition requires the cheer squad to deliver a 45-second game day routine and an additional performance that is just over two minutes in length.
Houstonians won't have to travel to Daytona Beach to experience the competition routine. At 2:30 p.m., Sunday, April 3, the squad will present a "showoff" in front of TDECU Stadium (at Bill Yeoman Legends Plaza). Fans are encouraged to show up to support the team before it departs to Florida.
"I believe this competition is very important to our cheer team and our university," said senior cheerleader Chelsea Villars. "This is our second year back at nationals and we have been working for something greater than ourselves."
The competition is an excellent way for the cheer team to represent UH, but it also provides opportunities to recruit new talent, Arnold said. Being on a national stage is helpful in attracting future Coogs to the cheerleading program, she added.
"Our cheerleaders are involved in many promotional activities and appearances," she said. "Attracting more enthusiastic students allows us to be involved in additional activities that support UH. We'll be seen by students from across the country that will soon be selecting colleges. This is an excellent opportunity to get them interested in UH and Cougar cheerleading."
UH's cheerleaders are coming off a busy year. The team supported the Cougar football team during its nationally televised victory at the Chick-Fil-A Peach Bowl in Atlanta. It also was showcased in the Houston Livestock Show and Rodeo Parade and maintained a presence during home Cougar basketball games.
"We're more prepared for this year's competition," Arnold said. "We've been reviewing videos of past NCA College Nationals and practiced through spring break. We'll also practice on Good Friday and Easter. We're getting conditioned physically and mentally to deliver a winning performance and to represent UH."
For some members of the cheer team, the experience will be bittersweet. Seniors like Villars will bid farewell to the team and UH after this semester, so this competition is their swan song as University spirit leaders. While it may be their last appearances wearing the red and white, their memories of sharing school spirit will last a lifetime.
"Being able to wear 'Houston' across my chest is an honor," she said. "I have been fortunate to meet so many people while cheering. I gained a new family through this cheer program and I love and admire each one of my teammates very much. Being part of this team, especially during the H-Town Takeover has been indescribable. Now, I have one more mission with the cheerleaders, and that's NCA in Daytona."
---