Sustainability is not a singular effort at the University of Houston. While UH has its own team dedicated to promoting sustainable practices, the entire Cougar community contributes to creating a durable physical, social and economic environment – both on and off campus.
UH is consistently recognized for such efforts by organizations including the Princeton Review. Recently, the University earned another nod of approval for its accomplishments in sustainability.
The Association for the Advancement of Sustainability in Higher Education (AASHE) awarded Gold status to UH in its Sustainability Tracking, Assessment and Rating System (STARS) report. The University is the only Texas institution to earn Gold status.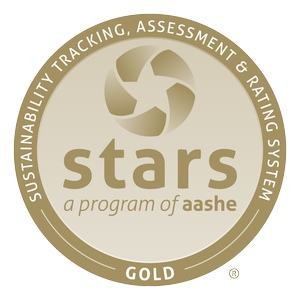 STARS ratings are generated through a point system. Institutions are scored in the following categories: academics, engagement, operations, planning and administration, and innovation. According to Sarah Kelly, UH sustainability manager, Gold status reflects the community's commitment to supporting sustainability activities, programs and academic initiatives.
"Of the four major STARS categories, we received the highest percentage of possible points, 89 percent, in the engagement section," she said. "This shows our commitment to offering programs and events that educate the campus, which is vital to creating a culture of sustainability."
 Kelly leads the University's sustainability reporting initiatives, including STARS. The two-year STARS reporting process required collecting extensive University data related to sustainability. In addition to the many reports compiled by Kelly and members of UH's Office of Sustainability, a letter from UH President Renu Khator cited recent sustainability highlights such as UH's inclusion in the Princeton Review's Guide to Green Colleges. She also touted the Texas Center for Superconductivity's development of a new thermo-electric material that more efficiently generates electric power from waste heat and the UH Coastal Center's commitment to preserving and restoring native coastal prairie in the region.
"Breakthroughs are being made every day, and the University's faculty are leading that charge with far-reaching sustainability research," wrote Khator. "Renewable energy, bioremediation, resilience, technological efficiencies, air qualities and community-based endeavors are some areas among this research."
The Gold rating bolsters UH's reputation as an institution that embraces sustainability. Kelly said, however, that the ranking also provides new opportunities to help build on its sustainability successes.
"STARS is a vital tool and guide to effectively integrate sustainability into campuses," Kelly said. "We now know that there is room for improvement in sustainable operations at UH, receiving only 38 percent of the possible points for that category.
 "Receiving the top STARS rating of any Texas university is an accomplishment that every UH student, faculty, staff and alumnus should be extremely proud of. We have significantly improved sustainability on campus since the inception of coordinated sustainability efforts in 2007."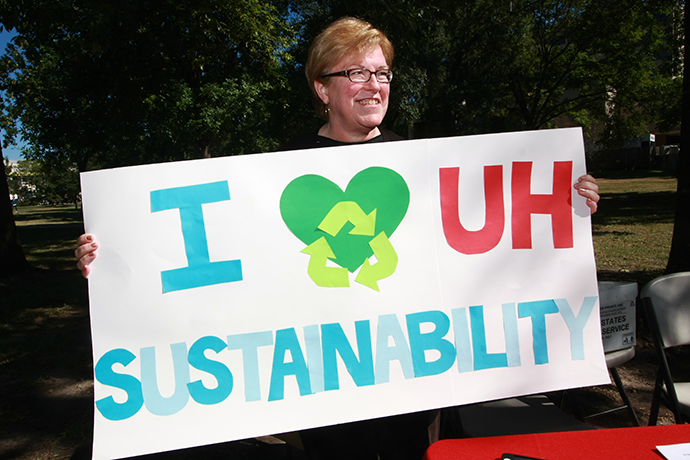 To view UH's STARS report, visit AASHE's website.
Kelly and the Office of Sustainability facilitate sustainability-based collaborations between campus constituents and external groups. It also delivers educational programming to enlighten faculty, staff and students on sustainability practices. The office also manages the Campus Community Garden, which grows fresh, organic produce that is donated to local food pantries.
A range of campus initiatives aimed at promoting and improving sustainability performance complement the office's work. These include the Sustainability Task Force, tray-less dining, single-stream recycling, alternative transportation, green computing and solar panels (powering offices in UH's Central Utility Plant). Recycling at UH is simplified with dual single-stream receptacles and solar-power trash compactors located throughout campus. Filtered water refill fountains help to reduce the number of plastic bottles in landfills.
Through strategic programs and initiatives, UH is consistently ranked on the Princeton Review's Guide to Green Colleges. Each year, this guide recognizes colleges from the U.S. and Canada for their commitment to sustainability in academic offerings, campus infrastructure, activities and career development.   
---