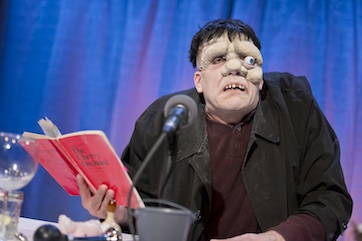 It's not every day that audiences can experience a panel discussion from esteemed composer Ludwig Van Beethoven and misunderstood hunchback Quasimodo. Soon these legendary figures will come together at the University of Houston in "The Hunchback Variations."
Produced by The Catastrophic Theatre, "The Hunchback Variations" pairs Beethoven and Quasimodo for a panel on sound design … in particular their efforts to create the sound effect at the conclusion of Anton Chekov's "The Cherry Orchard." Complicating this attempt is the fact that both men are deaf.
"The Hunchback Variations" will be performed at 8 p.m., Feb. 19, 20, 26 and 27 at UH's Engineering Lecture Hall. Tickets are "pay what you can" and can be purchased online or at the door.
Written by Mickie Maher, the play explores the creative impulse and the question of artistic endeavor. Is it a noble thing to continue to try in the face of inevitable failure, or is it better to simply remain silent?
Houston theater veteran Greg Dean directs "The Hunchback Variations." He also takes on the role of Quasimodo and is overseeing the production's scenery and properties. Longtime Catastrophic contributor Jeff Miller will play Beethoven. Dustin Tannahill is providing lighting, and Macy Lyne is designing the play's costumes.
The play also will feature contributions from UH School of Theatre & Dance students: John Peeples (sound design) and Chandler Harvey (stage manager).
"The Hunchback Variations" is co-presented by UH's School of Theatre & Dance, Honors College Center for Creative Work and Blaffer Art Museum.
"I'm very excited about how all four organizations have partnered to present this fascinating show," said Rob Shimko, UH School of Theatre & Dance professor. "It's a terrific thing to be able to bring some of the best theater in the city of Houston right to the UH campus."
"The Hunchback Variations" marks Catastrophic Theatre's return to UH. In 2008, the School of Theatre & Dance hosted Catastrophic Theatre's first production, "Big Death, Little Death." For more details on Catastrophic Theatre, visit its website.
---