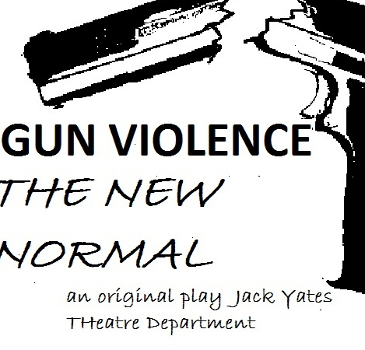 A provocative exploration of gun violence written, directed and performed by students at Yates High School will premiere at the University of Houston's Lyndall Finley Wortham Theatre Thursday, Dec. 15.
"Gun Violence: The New Normal," inspired by students' personal experiences and research, looks at the impact and aftermath of gun violence on communities. A mix of monologues, duets, short scenes, spoken word and rap, the performance will be followed by an informal Q&A with the students.
Two representatives from Texas Gun Sense, which advocates for policies to reduce gun injuries and deaths, are expected to be in the audience.
Margo Hickman, a UH theatre alumna and theatre arts teacher at Yates, said the concept was proposed by a student who lost two siblings to gun violence last summer. Hickman said she has lost 10 students to gun violence during her tenure at Yates High School, which is located less than two miles from the University in the city's Third Ward.
"The students in this production have lost friends, classmates and family members to gun violence; for us this has become an outcry for change," Hickman said. "I am moved that we have been invited to partner and share our message with the University of Houston."
The University, including the UH College of the Arts, is working to expand engagement with neighborhood schools, businesses and other enterprises as part of its Neighborhoods Initiative.
"Gun violence is an important topic that strikes all too close to home in many of the nation's neighborhoods," said Jackie deMontmollin, associate director of theatre education at the School of Theatre and Dance. "Hosting this performance and discussion with students from Yates High School offers an opportunity for not only the University but people from across Houston to join the dialogue."
WHAT:                                 "Gun Violence: The New Normal," a performance written, directed and starring
                                               students at Yates High School. Admission is free and open to the public.
WHEN:                                 7:30 p.m. Thursday, Dec. 15
WHERE:                               UH Lyndall Finley Wortham Theatre in the Cynthia Woods Mitchell Center for the
                                               Arts. Map
MEDIA CONTACT:            Meera Bowman-Johnson, 713.743.4960, mbowman-johnson@uh.edu
                                               Jeannie Kever, 713.743.0778, jekever@uh.edu
---