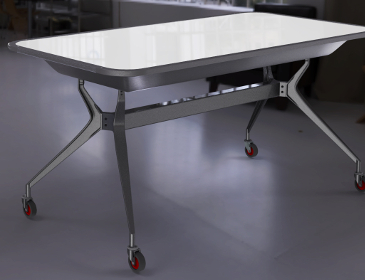 Circadian rhythms are an important part of treatment for a variety of medical conditions. Now students at the University of Houston Gerald D. Hines College of Architecture and Design believe their design skills will aid in treating people with Alzheimer's disease, insomnia and depression, using a product developed combining medical research and LED light technology.
Leica, a light table with controls for temperature, the light spectrum, duration and distribution, is one of several products addressing social and community concerns featured in this year's ID+Red showcase.
The exhibition, showcasing collaborations between the college's Industrial Design students, faculty and industry, opens Thursday, Dec. 8, with a reception from 5 p.m. to 7 p.m. at the college's Mashburn Gallery. It will remain on display through Jan. 31.
Aaron McEuen, who graduated last spring, said the fact that several facilities already have ordered the light table he and fellow Industrial Design graduate Kasey Rowe produced makes the showcase especially meaningful.
"It's nice to put your name on something, to say, 'here's my first manufactured product,' " McEuen said. "But what's more rewarding, it's something that can be impactful for a marginalized population."
That practical application of design skills is one of the goals of ID+, a design incubator founded by the UH Industrial Design program to give students additional training in product design and to promote partnerships with industry.
McEuen and Rowe worked with faculty members Jeff Feng and Adam Wells on the light table, a partnership between the design program and XtraLight, a Houston-based manufacturer of LED lighting. Researcher Mariana G. Figueiro, director of the Lighting Research Center at Rensselaer Polytechnic Institute, contributed data showing how appropriate lighting can improve daily function for people with Alzheimer's and other institutionalized populations.
Other products on display include:
·         Racing wheelchairs, designed in response to a challenge from Michael Cottingham, director of UH Adaptive Sports, to provide a low-cost racing wheelchair for middle and high school students. The design met both cost requirements – about $800, compared to as much as $4,000 for a traditional racing chair – and includes a novel seat that makes it easier for athletes to pull themselves into position. The program is seeking funding to provide up to 150 chairs to the Houston Independent School District, allowing all students with mobility impairments to participate in wheelchair track.
·         A demonstration app, "SI-3D," developed by students and faculty working with Sheer Industries to provide an immersive 3-D design experience. The app, which will be available for demonstration during the exhibit, works with the Microsoft Hololens, a headset that provides a 3-D, virtual reality experience.
Feng and Wells had worked previously with XtraLight, and the company contacted them after reviewing Figueiro's research. With McEuen and Rowe, they toured facilities caring for people with Alzheimer's and other forms of dementia to determine how they spend their days.
"As part of the research, we needed to know who would use it, and how," Feng said.
The table is made of aluminum, with LED diodes embedded in the tabletop, operated with "smart" controls that shift the lights in intensity and hue throughout the day, mimicking the way natural light changes from sunrise to nightfall.
Residents can sit at the table for meals and other activities; Wells said it flips vertically to provide additional lighting when not in use.  
McEuen, who also worked on the racing wheelchair project as an undergraduate, said the extensive research that went into both products ensures they will help people who often exist on the margins of society.
"We don't want to just produce some product that isn't actually going to work or be helpful to people," he said.
---