Graduation is a special time for students, but for Richard Bundick and Anesa Sankar the accomplishment has extra meaning. They are the first graduates of the new University of Houston Conrad N. Hilton College-San Antonio. They'll join fellow hotel and restaurant management graduates in Houston for the college's convocation ceremony at 9 a.m., Friday, May 13 at Hofheinz Pavilion.
"My experience at UH Hilton College-San Antonio has been unparalleled," Bundick said. "From day one all of the students grew close, like a big family. I can literally say we are living hospitality every day."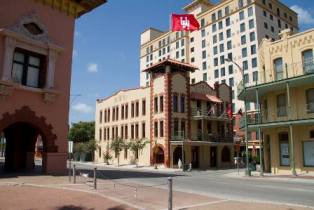 The UH Hilton College-San Antonio opened in 2014 as a way to pair the top-ranked hospitality program with the Tourism Capitol of Texas. It is the only upper-level hospitality degree offered in San Antonio. Located in Sunset Station near the city's downtown area, the new program is growing. By fall, 55 students will be enrolled. The UH program works in partnership with St. Philip's College, which has been offering a two-year degree in a variety of hospitality programs. Graduates from St. Philip's College (as well as Austin Community College in Austin, Del Mar College in Corpus Christi and other accredited two- or four-year institutions) can transfer to the UH program to complete a Bachelor of Science in Hotel and Restaurant Management.
"My most valuable experience was developing a bigger and better professional networking circle during my time at Hilton College-San Antonio," Sankar said. "I have always wanted to be associated with the hospitality industry. This school has given me the skills and tools to venture into hotel operations. I am on my way!"
San Antonio has a thriving hospitality industry, creating opportunities for students to take their classroom experiences into the real-world through internships and networking.
 "I have been introduced to many outstanding companies and have been amazed at the amount of opportunities presented to me because I have an education from UH Hilton College," Bundick said. "I plan to stay in the San Antonio hospitality market for at least the first year after graduation as I begin my career in the restaurant industry.    With the experience and knowledge I have gained, I have everything required to be successful in this industry.
Both Sankar and Bundick transferred from St. Philip's College and were among the first students to enroll in the UH program. They're now ready to launch their careers in the hospitality industry.
"These graduates are the start of a phenomenal change that the University of Houston—the first Tier One institute in San Antonio—is bringing to South and Central Texas," said Lisa Hernandez, director of operations for the college. "This is the first cohort of students that will be able to give back to an industry that they love and are truly passionate about."
It's estimated that San Antonio's tourism industry employs more than 112,000 people, the third largest industry in the area, which underscores the importance and the potential of UH Hilton College-San Antonio.
"As the first two graduates of the Hilton College-San Antonio, Anesa and Richard truly are trailblazers. I am so proud to hear about their accomplishments and the work they are already doing," said San Antonio Mayor Ivy R. Taylor. "I am especially excited that institutions of higher education, like the University of Houston Conrad N. Hilton College of Hotel and Restaurant Management, are helping connect more San Antonians to opportunities for prosperity, especially in the travel industry, which is vital to our city's economy."
---