This May, 12 University of Houston students will proudly graduate with master's degrees in athletic training. They are the first graduates of the program that began in 2014, and is newly accredited by the Commission on the Accreditation of Athletic Training Education (CAATE).   
An athletic trainer is a healthcare professional who collaborates with physicians. Athletic trainers provide prevention and emergency care, clinical diagnoses, therapeutic interventions and rehabilitation plans. No longer limited to college and high school positions, athletic trainers are in corporate roles offering fitness services, as well as health education and outreach.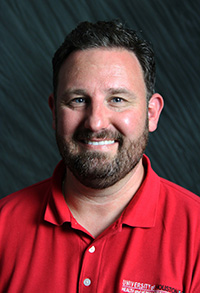 "Having this recognition from CAATE means our program provides high quality training, education and experiential learning opportunities for the industry's next generation of professionals," said Josh Yellen, clinical assistant professor in the Department of Health and Human Performance and director of the program. "Accreditation also makes our graduates immediately eligible for national certification and ready for a profession where athletic trainers are in demand."
To be accredited, a program must meet 109 standards set by CAATE to ensure it is preparing professionals at the highest level. Those standards cover all aspects of the program from faculty to syllabus to evaluation. The process can take up to three years.
 "The opportunities for our students are many simply because of where we're located," said Mark Knoblauch, clinical assistant professor and clinical education coordinator of the program. "We have a master's program, at a Tier One university, in the fourth-largest city in the country, where both NASA and the Texas Medical Center are located."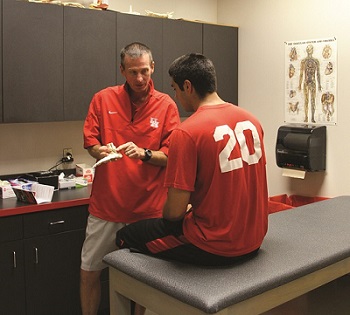 The Master's in Athletic Training program, the first of its kind in Houston, was approved by the UH System Board of Regents in 2013 and began accepting students the following year. The UH program includes studies in prevention and health promotion, clinical examination and diagnosis, acute care of injury and illness, as well as therapeutic interventions, healthcare administration and professional development. All students also complete up to 1,560 hours of clinical rotations with partner agencies that include, Memorial Hermann Medical Group, Memorial Hermann Sports Medicine and Rehabilitation and The Ironman Sports Medicine Sports Institute, the Houston Texans, Houston Marathon and the Sugar Land Skeeters.
"Today's healthcare model emphasizes prevention, and athletic trainers are the only medical profession that focuses on that aspect of health," Yellen said. "Whether in a corporate environment, professional sports club, school, the military, Disney or NASA—all of which employ athletic trainers—our students will be competitive and successful."
---