Although the acronym STEM has become a household word, sometimes the role of health care in the science, technology, engineering and mathematics fields is overlooked. To encourage teenagers interested in STEM to pursue professional pharmacy and other health and research careers in these fields, the University of Houston College of Pharmacy is once again offering its Pharmacy Summer Camp for junior and senior high school students.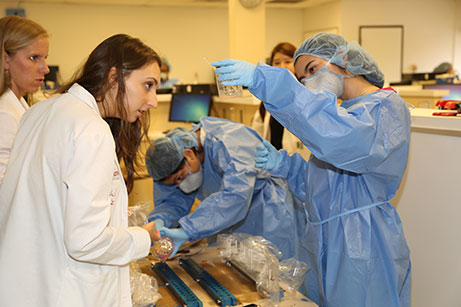 Camp highlights include participating in hands-on activities, live demonstrations and shadowing hospital pharmacists during tours of the Texas Medical Center. They also will have access to academic advising and planning, opportunities for career discovery and research, and a forum to network with pharmacy professionals, researchers and current students.
Campers will learn about the diverse jobs available for pharmacists, as well as receive tips and guidance on how to prepare for their education and careers in pharmacy practice and/or research. They also will get a chance to visit pharmacy college labs, meet with faculty researchers in both clinical and basic sciences, explore the internationally recognized Texas Medical Center, and hear from real-world practitioners, researchers and current UH doctoral students about working in different pharmacy settings. Through hands-on activities, campers will learn about pharmacy skills and techniques, such as patient counseling and compounding.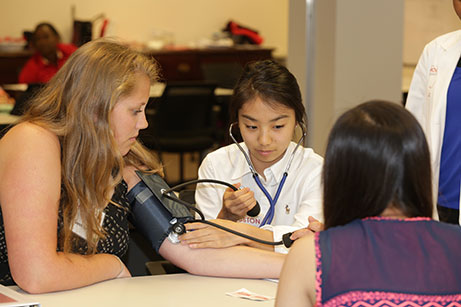 In its fourth year, the camp will offer three half-day sessions of learning activities, guidance and networking, beginning and ending each day at the UH College of Pharmacy's Texas Medical Center campus, June 14-17. The cost of the camp is $300, which includes a light breakfast and lunch each day.
Open to students entering their junior or senior year of high school in fall 2016, the camp requires students to have both a minimum cumulative and math/science GPA of 3.0 on 4.0 scale. Application requirements include a personal essay, an official high school transcript and a teacher or counselor recommendation. The deadline to apply is May 2, and applicants will be notified of acceptance by May 16. Detailed application information can be found at
http://www.uh.edu/pharmacy/news-and-events/events/summer-camp/
. For questions not answered on the website, contact
Nekesa Sapp
at 713-743-1261.
To hear students talk about the camp, visit
https://www.youtube.com/watch?v=augfxHwV1Ns
.
###
About the University of Houston
The University of Houston is a Carnegie-designated Tier One public research university recognized by The Princeton Review as one of the nation's best colleges for undergraduate education. UH serves the globally competitive Houston and Gulf Coast Region by providing world-class faculty, experiential learning and strategic industry partnerships. Located in the nation's fourth-largest city, UH serves more than 42,700 students in the most ethnically and culturally diverse region in the country. For more information about UH, visit the university's
newsroom
.
About the UH College of Pharmacy
For more than 65 years, the University of Houston College of Pharmacy (UHCOP) has shaped aspiring pharmacists, scientists and researchers. The college offers graduate degrees in pharmacy administration, pharmacology and pharmaceutics, a professional pharmacy degree, combined professional/graduate degrees, and post-graduate residency and fellowship programs. With facilities on the UH campus and in the Texas Medical Center, the UHCOP is accredited by the Accreditation Council for Pharmacy Education.
To receive UH science news via email, sign up for
UH-SciNews
.
---