Longtime College of Optometry faculty member and University of Houston administrator Roger L. Boltz was named Educator of the Year by the Texas Optometric Association (TOA) for his dedication and hard work in furthering the profession and providing leadership during his longstanding tenure at UH.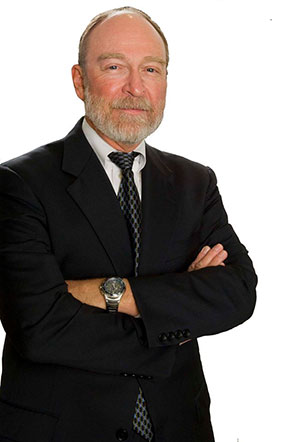 No stranger to this caliber of award, Boltz was chosen for a similar honor at the start of his career by the international optometric honor society Beta Sigma Kappa, which works to develop programs that foster academic excellence. When asked what he finds most rewarding about teaching, he says, "seeing the progression of students throughout the curriculum."
Boltz, an associate professor, received both his Doctor of Optometry and Ph.D. from UH and has been with the College of Optometry as part of the faculty for nearly 40 years. During his time at the college, he served a two-year term as interim dean and was associate dean for professional studies prior to that. He is currently the associate dean for finance and administration and serves as chair of the Accreditation Council on Optometric Education.
His clinical interest is in cornea and contact lenses, and he is part of the team that supervises third- and fourth-year professional students in assessing patients and dispensing contact lenses at the Cornea and Contact Lens Service at the University Eye Institute. Here, he not only trains future doctors, but also practicing doctors around the state and across the nation in the form of continuing education.
"A good educator engages students in a way that not only allows them to master knowledge, but also to create a lifelong learner," said Marcus G. Piccolo, a fellow faculty member and the associate dean for professional advancement at the UH College of Optometry. "In Roger's case, he is a good teacher first, but in his capacity of interim dean, he created an environment that allowed lifelong learning to flourish across the entire college, for students and faculty, alike."
Piccolo is a TOA board member and was on the committee that chose Boltz for this honor.
"During his two years as interim dean, Roger took on a tough job and maintained the college's stature within the state and continued to amplify relations with the TOA," Piccolo said. "Typically, the TOA looks for an educator who positively impacts the profession, such as by increasing exposure of the college community to the TOA's work. Often, it's also someone who stresses the ideals of the profession to the students, encouraging them to be more involved with advancing it after graduation."
###
About the University of Houston
The University of Houston is a Carnegie-designated Tier One public research university recognized by The Princeton Review as one of the nation's best colleges for undergraduate education. UH serves the globally competitive Houston and Gulf Coast Region by providing world-class faculty, experiential learning and strategic industry partnerships. Located in the nation's fourth-largest city, UH serves more than 42,700 students in the most ethnically and culturally diverse region in the country. For more information about UH, visit the university's
newsroom
.
About the UH College of Optometry
Since 1952, the University of Houston College of Optometry (UHCO) has educated and trained optometrists to provide the highest quality vision care. One of only 22 optometry schools in the country, UHCO offers a variety of degree programs, including Doctor of Optometry (O.D.), a combined Doctor of Optometry/Doctor of Philosophy (O.D./Ph.D.), Master of Science (M.S.) and Doctor of Philosophy (Ph.D.). UHCO serves an average of 50,000 patients a year through The University Eye Institute and its external clinics located in the Houston and Dallas-Fort Worth regions.
To receive UH science news via email, sign up for
UH-SciNews
.
---