The National Council on Teacher Quality (NCTQ) has ranked the University of Houston College of Education's secondary education programs number one on its list of "Best Value Colleges of Education" in Texas.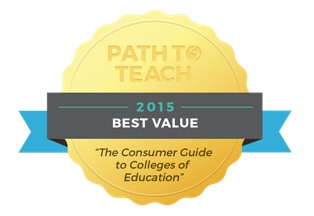 Secondary education programs refer to studies that prepare students to teach middle and high school subjects.
The NCTQ, which strives to increase the number of effective teachers through advocacy of teacher policy reforms, evaluated 1,100 colleges in the country and ranked the top programs in each state. Colleges of education listed as "Best Value" scored highest on a combination of quality and affordability factors, including financial aid awards and how well the school prepares future teachers for the realities of the classroom.
"Providing our aspiring teachers with a high quality, Tier One education at an affordable cost is our goal at UH," said Robert McPherson, dean of the college. "This recognition highlights the effectiveness of our faculty and the impact of our graduates on their students' learning."
Currently, there are more than 1,100 UH College of Education (COE) students preparing to become teachers. In addition to accessing University scholarships and financial aid, COE students have access to nearly 50 college scholarship opportunities that average $80,000 in awards. The scholarships available depend on a student's classification (undergraduate or graduate) and area of study. The college offers three Bachelor of Science programs, eight graduate programs, seven education doctorate programs, three Ph.D. programs and boasts a 95 percent graduate certification pass rate. 
"Working with our partner districts, we ensure our teacher education students a Tier One field experience. UH student teachers spend a full year in the field providing a strong foundation for success in their own classroom, which sets them apart from other teacher candidates," McPherson said.  
Other colleges of education on the list can be viewed here.
In 2014, the NCTQ ranked the UH College of Education in the top 25 of the nation's best teacher preparation programs, in a year that also included recognition from U.S. News & World Report, which ranked the college third in the nation for its graduate online program.
For more information on the UH College of Education, visit http://www.coe.uh.edu/.
---