A microcosm of the world, Houston is home to many cultures, as is its namesake university. This diversity is noted as one of the city's and the University of Houston's greatest strengths.
As the nation observes National Hispanic Heritage Month, the University of Houston Libraries Special Collections presents the exhibition "Reflexiones: Reflections of Houston's Hispanic Heritage." It is on view through Oct. 15 at the UH M.D. Anderson library, first floor. The exhibit is free and open to the public.
"The exhibition reflects the immeasurable contributions of Latinos to Houston and greater Texas," said Lisa Cruces, curator of the exhibit and archivist of the UH Hispanic Collections. "Books and archival materials elaborate on landmarks in Latinos' history, scholarship, social activism and self-expression."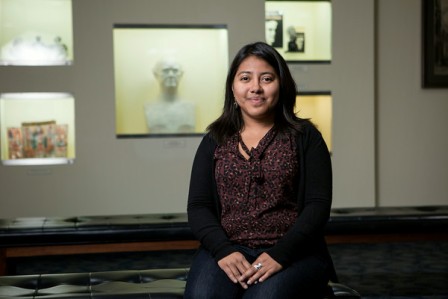 "Reflexiones" brings together printed materials, images and other artifacts from the Hispanic Collection and the University Archives, from the 1960s-2000s. Among the items displayed are several first edition books published by Arte Público Press, books from the Kanellos Latino Literary Movement Collection  and candid photographs of Cesar Chavez from his 1966 visit to Houston in support of labor organizations. Chavez was the co-founder of the National Farm Workers Association.
"The items provide a lens for viewing the evolution of Hispanic organizations and leadership on the UH campus," Cruces said. "The impact of this important work and leadership resonate throughout the landscape of the campus to this day."
WHAT: "Reflexiones: Reflections of Houston's Hispanic Heritage," an exhibition at UH Libraries' Special Collections
WHEN: On view through Oct. 15
Visit http://info.lib.uh.edu/about/hours for library hours
WHERE: University of Houston M.D. Anderson Library, First Floor
For directions and parking information, visit http://www.uh.edu/maps/buildings/?short_name=L
---