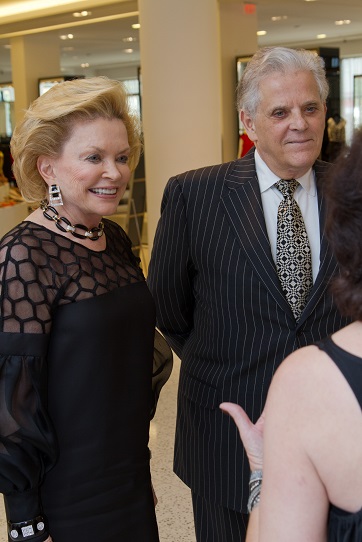 Legendary fashion designer Victor Costa and a roster of retailing and community giants will be honored at the "Salute to Retail" 2015 luncheon and awards presentation.
The event will begin at 11 a.m. Nov. 17 at the River Oaks Country Club.
"Salute to Retail" is held every two years to benefit student scholarships and the Merchandising Star Award Endowment in the UH College of Technology. The biannual event is the major fundraiser for student scholarships and other needs, said Marcella Norwood, chair of the Department of Human Development and Consumer Sciences, which includes the retailing program.
Costa, a Houston native, attended UH before studying design at the Pratt Institute in New York City and the Ecole de la Chambre Syndicale de la Couture Parisienne in Paris. He launched the Victor Costa Company in the early 1970s, and his designs have been featured by retailers around the world.
He will receive the Legends Award. Costa and his wife, Jerry Ann Woodfin-Costa, in August established the Victor Costa Endowment Scholarship at UH.
Other honorees include:
Julie Phillips Roberts, owner of the Elizabeth Anthony boutique.
Tamara Klosz Bonar and Lenny T. Matuszewski Jr., who produce fashion events.
Bradley H. Marks and Joanna Marks, of IW Marks Jewelers Inc.
Pam Kuhl-Linscomb and Dan Linscomb, owners of Kuhl-Linscomb, a design and lifestyle retailer.
Welcome W. Wilson Sr. and Joanne Wilson, who will be honored for community service.
"Salute to Retail" began 12 years ago as a way to honor the field and reflect the program's active advisory board and alumni, said Shirley Ezell, associate professor of retailing and consumer science. The merchandising awards, honoring people who have contributed to the field, allowed the department to create an endowment to cover scholarships and other needs.
The community service award, given this year to developer Welcome W. Wilson Sr. and his wife, Joanne Wilson, honors Wilson's work on behalf of UH. A UH graduate, Wilson is also a former chairman of the UH System Board of Regents.
Four students – three graduate students and one undergraduate – will receive scholarships this year, Ezell said.
For more information about the luncheon and award ceremony, contact Vernon King, veking@central.uh.edu.
---