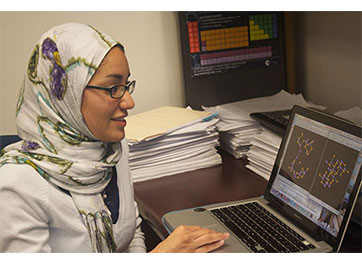 Listening to undergraduate chemistry major Nada Qari matter-of-factly explain her research on the chalcogenide alloy arsenic selenide, as she seamlessly transitions you into understanding how it's going to one day affect your daily computing activities, is just one example of the level of genius and talent that will be on display if you come to the University of Houston Oct. 22.
Representing more than 11 academic colleges and mentored by faculty from a wide range of disciplines,
more than 175 undergraduate students will present posters and oral projects
at the 11th annual Undergraduate Research Day at 4 p.m. Thursday in the Rockwell Pavilion and Honors College Commons on the second floor of the MD Anderson Library.
Under the mentorship of associate professor of chemistry Vassiliy Lubchenko, Qari says her research on this small molecular unit will have important implications for information technology and space exploration. When put together, these molecular units exhibit complex behaviors that have already made them useful for information storage and may be a game changer in the quest for making better computer memory.
"Phase-change memory materials can resist radiation," Qari said. "If you take a silicon-based USB drive to space right now, the information would be erased in a year by the radiation, which is very intense in outer space. Yet, if a solid state type of memory is made, using elements from groups 15 and 16 of the periodic table, it wouldn't be damaged at all."
The phase behavior of the prototype compound arsenic selenide (As2Se3) and its likes, called the chalcogenides, underlies their use in information storage and processing. The memory bit made of a chalcogenide can be manipulated by switching the state of the compound between an orderly, crystalline arrangement and a disordered, amorphous state. Qari and her collaborators hope to develop materials that can be used to make faster computer memory characterized by a greater density of information, thus extending application of the chalcogenide alloys well beyond their current use in Blu-ray and DVD technology and radiation-resistant memory.
Qari's contribution to the project includes implementing a computationally efficient procedure to generate amorphous samples on the computer, a task that cannot be accomplished head-on with present-day tools of quantum chemistry. She combines established principles that she learned in chemistry with recent ideas on the thermodynamics of amorphous materials to create highly stable amorphous structures that represent actual materials.
Coming to UH as part of a Saudi Arabian Cultural Mission scholarship, Qari will go back home to work for two to three years upon completing her degree. Set to graduate in December with a B.S. in chemistry, she will most likely take a job in research and development, since Saudi Arabia has a lot of chemical labs supporting the oil and gas industry. She says the country is moving toward clean energy and materials that are more efficient, so this research is quite applicable in this regard, as well. If she is successful in doing a good job, she will be given the option to come back to the U.S. to earn her Ph.D. Working in Lubchenko's lab has inspired her to strive toward that goal.
"It really makes you feel like you're part of something that's a lot bigger than you, and I like waking up every day realizing that," Qari said. "Being in the lab is very exciting. It's incredible to see all the theories we learn about in class being applicable in real life. It really gives me hands-on experience."
Of the more than 175 students participating in this year's Undergraduate Research Day, 74 took part in the Summer Undergraduate Research Fellowship (SURF) program, an intensive, 10-week research program under the mentorship of UH faculty. In addition to Qari, two other SURF students who benefitted from the opportunity to perform research at the undergraduate level were biotechnology major Bilal Tariq and architecture major Munjer Hashim. Both will be presenting their projects Thursday.
Under the mentorship of associate professor of biology and biochemistry Rebecca Zufall, Tariq's project assesses the relative importance of natural selection in driving sex ratio based on evolution in microbial populations. His results will highlight the significance of understanding the biological details of a species to understand its evolutionary history and future potential in a changing world. When there is an uneven sex ratio, for instance, there is a potential for population decline if there are not enough mates of a particular sex to go around. He says this is something that needs to be considered in conservation efforts.
"By understanding how the diversity of biological organisms has evolved, we gain a deeper understanding of how the world works and our place in it," Tariq said. "My greatest take-away from my SURF experience was that it opened my mind to what a researcher is beyond his lab bench. Without basic science research, little progress could be made in applied fields. Many of the most important scientific discoveries have been made by basic science researchers."
Performing yet another type of research, Hashim has been working with professor Peter Zweig at UH's Gerald D. Hines College of Architecture, studying the trends preferred by millennials compared to other generations, with the idea being to design a space that can be built quickly and then changed just as fast. To do this, they focus on using foam technology and augmented reality to craft a new spatial design prototype.
"The project explores the attributes millennials look for within their place of existence, such as wanting spaces that can cater quickly to their personal needs and adapt to their changing demands," Hashim said. "We focus on foam technology to create these spaces, replacing traditional brick and mortar as building blocks. This allows the building and manufacturing process to be faster and highly customizable."
Along with the use of foam as a building block, the research also involved augmented reality headsets to understand the idea of creating virtual objects within real environments. He says this would allow millennials to visualize what they think they would like, allowing them to see it before it's built.
"Conducting research at the undergraduate level gives students a competitive edge when they enter the professional world or start graduate school," said Stuart Long, associate dean of undergraduate research and the Honors College. "Undergraduate Research Day is an opportunity to see the contributions these students make to their fields and celebrate the students and their faculty mentors."
To learn about other projects that will be on display at Undergraduate Research Day, visit this summer's
roundup of some of the health-related research
performed by SURF students. A
video of some of these projects
also is available.       
###
Link to additional projects: http://www.uh.edu/news-events/stories/2015/August/080415SURF.php
Link to video of projects: https://www.youtube.com/watch?v=UoinmRJFKrY
Link to schedule of presentations: http://www.uh.edu/honors/undergraduate-research/uh-research/urday2015/
About the University of Houston
The University of Houston is a Carnegie-designated Tier One public research university recognized by The Princeton Review as one of the nation's best colleges for undergraduate education. UH serves the globally competitive Houston and Gulf Coast Region by providing world-class faculty, experiential learning and strategic industry partnerships. Located in the nation's fourth-largest city, UH serves more than 42,700 students in the most ethnically and culturally diverse region in the country. For more information about UH, visit the university's
newsroom
.
For additional news alerts about UH, follow us on
Facebook
and
Twitter
.
---