Members of Houston's Third Ward community are receiving healthy meals delivered to their door courtesy of University of Houston students.
This fall, a group of UH students launched a program aimed at preserving unused food from University dining facilities and serving it to Houstonians. This initiative combines the efforts of students from UH's Bonner Leaders Program (based in the Honors College), the Conrad N. Hilton College of Hotel and Restaurant Management, Aramark and the national Campus Kitchens Project.
The result of this synergy is UH's very own Campus Kitchen, the first of its kind at a public higher education institution in Texas.
Credit the ingenuity of Coogs in sparking this idea. Through their oversight, the Campus Kitchen prepares meals and provides them to residents at New Hope Housing in Houston. Students recover left over, unserved food from UH dining halls (managed by Aramark) and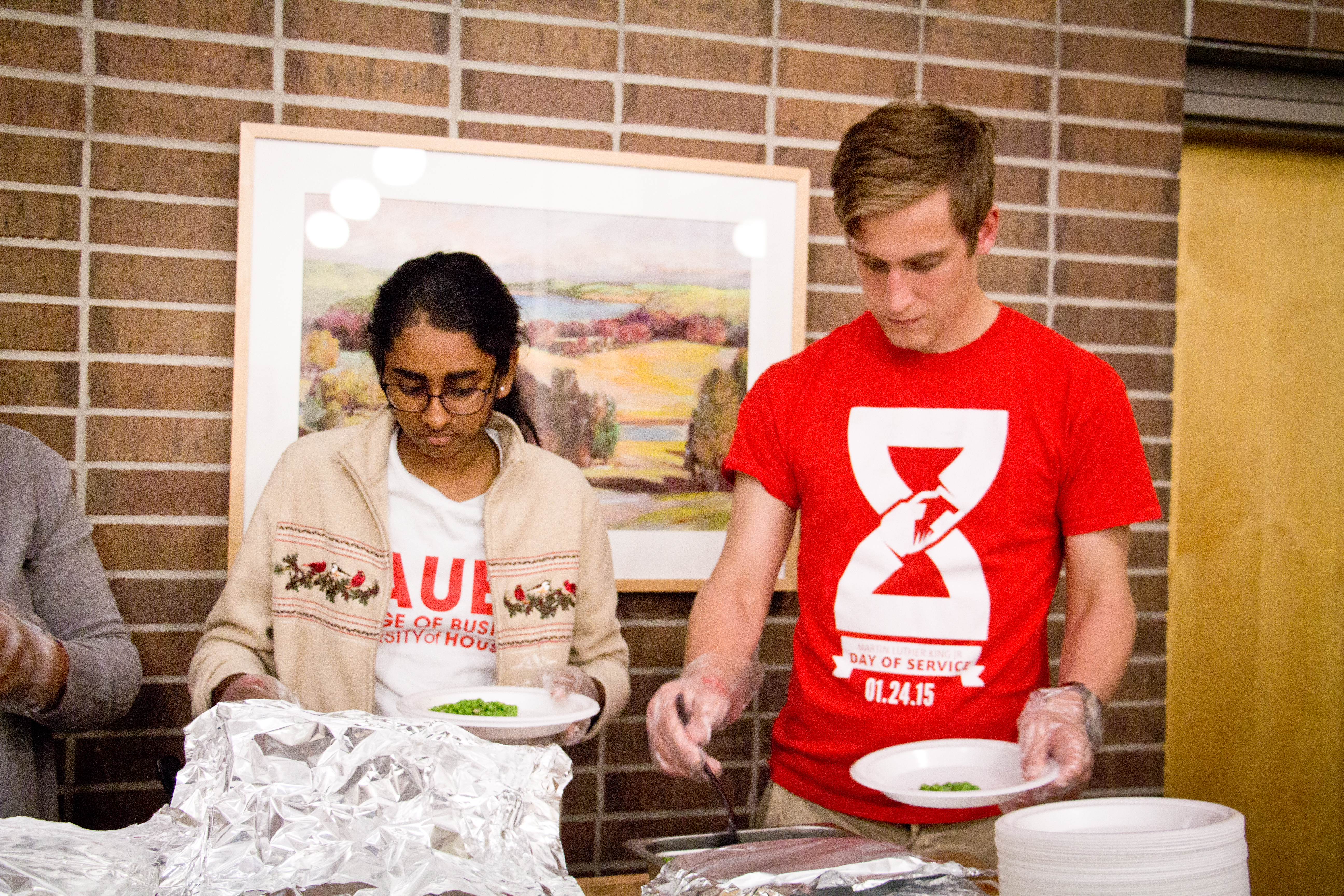 transport it to freezers at the Hilton College. On delivery days, students package meals in covered trays (using Hilton's kitchens and prep facilities) and transport it to New Hope.
Food is recovered five days a week from Fresh Foods and Cougar Woods dining halls. Students weigh and wrap the food and use insulated bags to keep it at a safe temperature. Meals are delivered three times a week to the New Hope facility at 4415 Perry Street (near UH). 
So far, students have recovered more than 700 pounds of unused food (that otherwise would go to waste). They estimate that more than 1,000 pounds will be recovered by the end of October.
Meals have been distributed to New Hope residents by the housing center's staff, but soon, students will have the opportunity to deliver these meals themselves.
"I can't think of a project that could be more satisfying than this," said sophomore biology major Naina Sakruti. "I'm especially looking forward to serving these meals to the community at New Hope. Being able to see the difference that UH's Campus Kitchen is making will be incredible."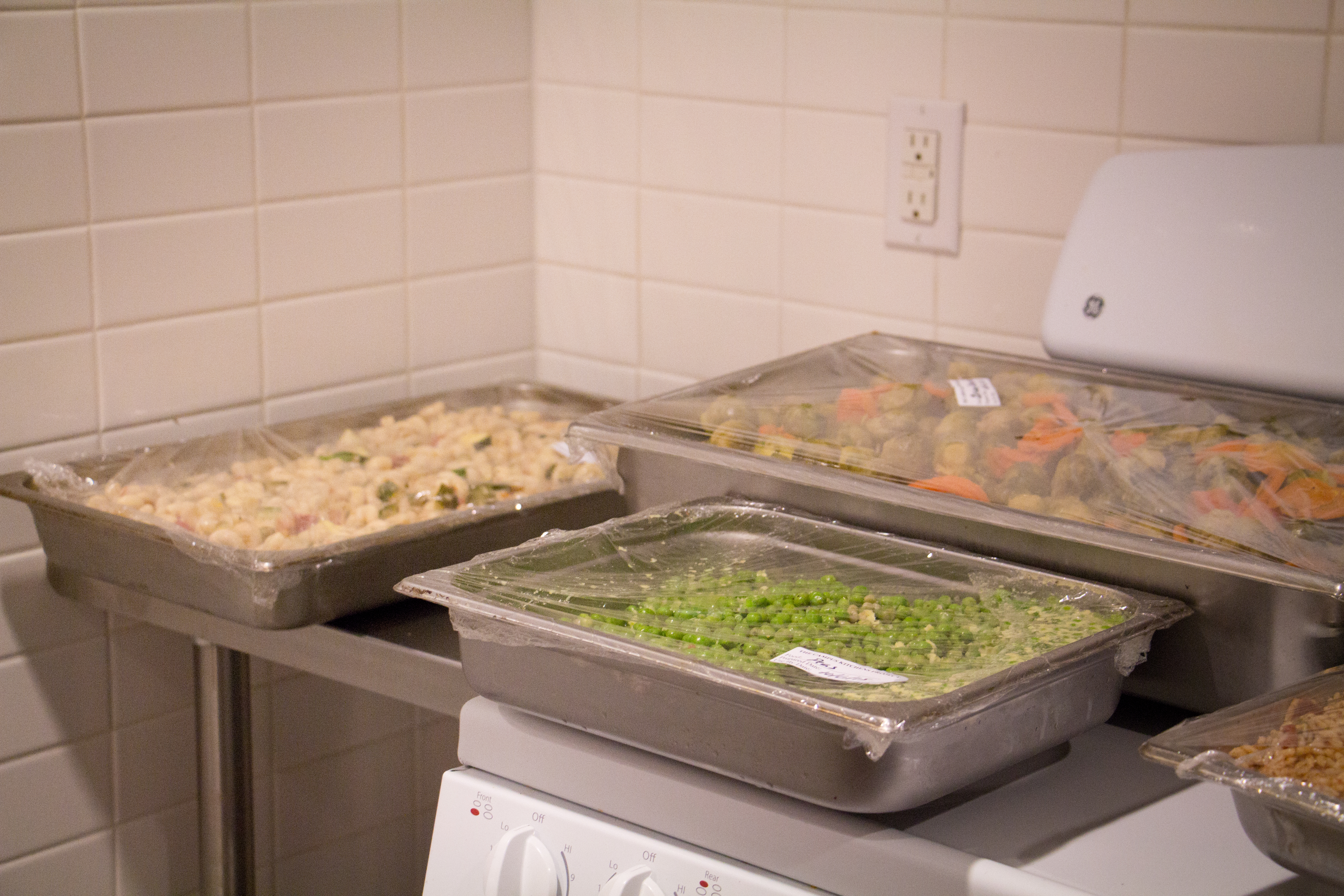 The seeds for an official Campus Kitchen at UH were planted one year ago. The project began to take root, however, during the spring semester. Sakruti and teammates created a video for a Campus Kitchens Project competition (sponsored by Sodexo Foundation) and earned $5,000 to apply toward creating a University Campus Kitchen. Students also earned a grant from the Resolutions Project Social Venture Challenge at the Clinton Global Initiative University Meeting in Miami. Students also received support from the Center for Student Involvement.
The video competition energized the group, who worked throughout the summer to make sure the Campus Kitchen got off the ground. Through coordination with campus partners at the Hilton (including professor Jay Neal) and Aramark, the plan outlined in their award-winning video is now a reality.
The team, led by sophomore Brinda Penmetsa, credits UH for effectively preparing them for this endeavor.
"It's great to say that UH has the first Campus Kitchen at a Texas public university. That's amazing, and it makes us proud," said Penmetsa, a pre-business major . "We've learned a lot at UH. From grant writing to leadership development, we are picking up new skills every day on campus."
 A motivating factor for the Campus Kitchen is the fact that UH's neighboring Third Ward community is a virtual food desert. With few grocery stores and an abundance of fast food restaurants, residents have few options for fresh produce or healthy dining options.
In addition to Penmetsa and Sakruti, other UH Honors and Bonner students participating in the project are Joshua Monsivais, Dave Giang, 
Greg Goedecke,
Olivia Kuligowski,
Devan Mendez,
Keana Madrinan, 
Deborah Okoro,
Stephanie Nweke, Robert Laroche, Aaron Knight and 
Khanh Nguyen. Others who helped guide the project include Ton La, who worked on the initiative before graduating in spring, and Bonner Leaders Program adviser and Honors College associate dean Andrew Hamilton. Follow their activities on the Campus Kitchen Facebook page.
The Campus Kitchens Project is a national organization that empowers student volunteers to fight hunger in their communities. It works with 42 university and high school campuses across the country to help provide unused food from dining halls, grocery stores, restaurants, and farmers' markets to local agencies serving those in need. In running these community kitchens, students develop entrepreneurial and leadership skills and deepen relationships with their respective communities. Universities' campus kitchens not only provide meals, they engage communities through educational programming, gardening initiatives, special events and other projects. For more details on the Campus Kitchen Project, visit www.campuskitchens.org.
New Hope Housing's core purpose is to provide life-stabilizing, affordable, permanent housing with support services. It offers single room occupancy apartments for its residents. To learn more about New Hope, visit its website.
Based in the Honors College, the Bonner Leaders Program connects students with community service opportunities. The program is open to all UH students and allows them to work alongside community members to address the economic, social and cultural challenges facing the city. For more details, visit the Bonner Leaders Program's website.
The Honors College at UH is a hub of excellence that serves the needs of gifted undergraduates in more than 100 fields of study and reflects the rich diversity of the University of Houston in its courses, faculty and students. For over 50 years, the Honors College has offered students the best of both worlds: the advantages of a small college together with the comprehensive resources and rich diversity of a large university. For more information about the Honors College, visit http://TheHonorsCollege.com.
---