There's no place like home, and this week Fox 26 News found that out at the University of Houston. Their weekly "Hometown Friday" live broadcast came to the UH Student Center and TDECU Stadium for a morning of UH stories, cheerleaders, live interviews and fun.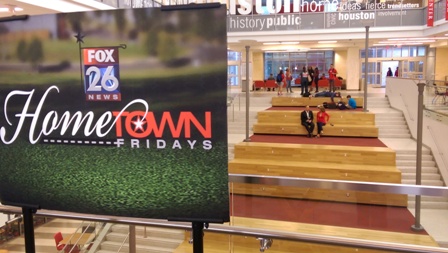 "'Hometown Friday' is about going to a community to shine a spotlight on all the great things that are happening," said Tom Zizka, Fox 26 reporter and anchor. "There is so much going on at UH. Why not bring our cameras here and really have a great time telling people what a great community this is?"
Zizka and co-anchor Melissa Wilson held down the fort at the Student Center. Meanwhile, reporter Ruben Dominguez had the fun duty of spotlighting the Spirit of Houston Marching Band, UH cheerleaders and Cougar Dolls at TDECU Stadium.
Reporters spent the days leading up to the broadcast finding the stories of the University.  Viewers learned about the history of UH, campus life and activities. A story by Houston foodie Cleverly Stone told of nutrition students and their food laboratory known to the campus as Shasta's Culinary Workshop. Elizabeth Taylor's wedding album, The Statue of Four Lies, A.D. Bruce chapel and the Chicano Mural all were included in a story about hidden gems on campus. Experts at the C.T. Bauer College of Business explained the current hot jobs for students, and reporter Rita Garcia told the story of political science professor Richard Murray, who is celebrating his 50th year on the UH campus.   
"This is great publicity for our University and really gets our name out there," said Joseph Martin, a sophomore construction management major. 
Reporters often use UH experts for perspective and insight into current news stories.  During a live interview in the broadcast, political science associate professor Jason Casellas talked about the current Presidential campaigns and candidates.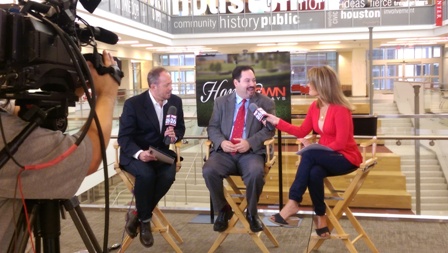 But at UH it's all about the students who came out in support of the broadcast to share their own stories.  Fox News' relationship expert MaryJo Rapini spoke with students about college life and dating.
"That information was helpful," said Kinesiology major Elaine Nguyen.
"Everyone got to see what the UH students are all about," said Computer Information Systems major Steven Dinh. "We're down to earth and friendly."
Of course, no story on the University of Houston would be complete without a tour of the TDECU stadium home of the undefeated Houston Cougars (8-0) who are preparing to take on the University of Cincinnati Bearcats (5-3).  It's Homecoming weekend and candidates for Homecoming King and Queen shared their excitement about the celebration.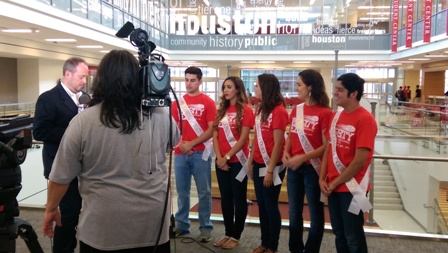 "We're trying to get into a national spotlight, so it's great that the news station is here," said Gavin Graham, a sophomore civil engineering major.  "They're helping us get the word out about Cougars and UH."
---