The Texas Psychological Association (TPA) presented its highest honor, the Lifetime Achievement Award, to Robert McPherson, dean of the University of Houston College of Education. The event occurred at the TPA's annual convention in San Antonio. TPA President James Bray made the presentation and noted that "during McPherson's nearly forty-year career, he has left for the better an indelible impact on psychology in Texas."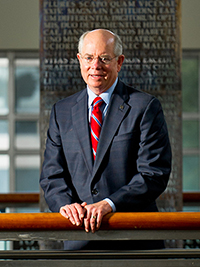 "I am honored to be recognized by the Texas Psychological Association for my contributions to the profession," said McPherson. "The organization has supported me professionally and my closest colleagues are members.  I am proud of our work and humbled by this distinction."
McPherson began his career in 1976 overseeing a peer counseling program and teaching psychology at a Title 1 minority-serving high school in Odessa, Texas. He later enrolled in the UH counselor education doctoral program. As a first year student, he developed and presented to the faculty a curriculum proposal to transform his degree program into an American Psychological Association- accredited counseling psychology program. His proposal was accepted, and he was among the first of its new graduates. 
The University of Houston has been McPherson's professional home for the entirety of his career. He has directed the Learning Support Services Center, and been staff psychologist at the University Counseling Center. Additionally he served as director of training for the Counseling Psychology program, chair of the college's Department of Educational Psychology, and associate dean for Graduate Studies. His career later led him to the position of executive Associate dean for the College of Education. Currently, he serves as the dean and the Elizabeth D. Rockwell Chair for the college.
Under McPherson's leadership, the college successfully launched two new Ph.D. programs, doubled the number of faculty, and enjoyed national rankings for its teacher preparation programs and an online graduate degree program. He also has overseen the doubling of external funding expenditures in the past five years.
Recently, McPherson assumed oversight of the University's expansion at its Sugar Land campus, where he serves as the Interim Associate Provost, Academic Affairs and Operations.    
In addition to be being an accomplished administrator, teacher and scholar, McPherson also is a successful entrepreneur. He and former UH colleague Stewart Pisecco co-founded Psychological Software Solutions, an award-winning software-as-service company that provides consultation services, web-based behavioral management and progress monitoring systems for large school districts throughout the United States. Their company was recognized by Inc. Magazine as one of the country's 100 fastest growing companies in 2010. It was acquired by Pearson in 2012.    
"[McPherson's] contributions to Texas Psychological Association have been long-standing and incredible," said Roberta Nutt, UH College of Education professor and fellow TPA member. "He has provided valuable consultation to the profession during many Texas Legislative sessions."
McPherson is the former Chair of the National Council of Counseling Psychology Training Programs and previously served as president of the Texas and Houston Psychological Associations, as well as the Texas Psychological Foundation. Among his many TPA contributions: he served as the Texas representative to the American Psychological Association Council of Representatives and he was the first Director of Professional Affairs for the TPA. He currently chairs the TPA Finance Committee.
 "He has been our fiercest champion in defense of the doctoral standard for the practice of psychology, and he has played a significant leadership role in the renewal of the Texas psychology licensing act during the past two legislative Sunset reviews," stated David White, executive director of Texas Psychological Association.
McPherson is a Fellow of both the American Psychological and American Education Research Associations. He has been inducted into the National Academies of Practice and is a recipient of the American Psychological Association's Karl Heiser Award in recognition of his state and national advocacy contributions on behalf of psychologists and their patients. In addition to this Lifetime Achievement Award, the TPA also has named its legislative advocacy award in his honor.
McPherson is married to Ann Hodges, a clinical psychologist practicing in Houston. They are long-time Bellaire residents.
For more information on the UH College of Education, visit http://www.coe.uh.edu/
---