This week, nearly 5,000 University of Houston students will earn their academic degrees during college convocations and a historic Spring University Commencement.  UH is celebrating the accomplishments of its students, as well as those who contribute time and energies to the University and Community.
At 7 p.m., May 15, UH hosts its first University Commencement in TDECU Stadium. Oscar winner and philanthropist Matthew McConaughey will address the students, families, faculty and friends in attendance.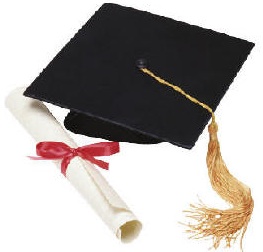 During University Commencement, artist Rick Lowe and the Robert A. Welch Foundation each will receive the UH President's Medallion. The President's Medallion is the highest honored bestowed to friends of the University who have a legacy of enhancing the community.
Business leaders Melvyn L. Wolff and Jim McIngvale also will be honored during this event. They will receive Honorary Doctorates. Wolff and wife Cyvia founded the Cyvia and Melvyn Wolff Center for Entrepreneurship at the Bauer College.  McIngvale is familiar as the owner and spokesman for Houston's Gallery Furniture who also is recognized for his charitable work in Houston.
For more details on the event, visit the University Commencement site.
In addition to the University Commencement at TDECU Stadium, UH will host 13 college convocations this week. A complete schedule of these convocations is available here.
Among this year's graduates are the following students:
 Heather Childress and her daughter, Sarah, have a special reason to celebrate commencement. They're both graduating together — Heather from the Bauer College of Business and Sarah from the College of Education.  They'll be seated next to each other during the May 15 ceremony. While their smiles convey pride in their accomplishment, their minds also will be on Heather's husband, a disabled veteran injured in Iraq.
 Varun Potluri and Christopher Huynh have been classmates since middle school. They both attended T. H. Rogers Middle School and Michael E. DeBakey High School for Health Professions and now will both graduate from the College of Natural Sciences and Mathematics. What's next? They've both been accepted to Baylor College of Medicine. 
 Pat Hebert will be fulfilling a promise to her father when she crosses the stage during the College of Education's convocation. She promised him when she became engaged to her now husband—Fort Bend County Judge Robert Hebert—that she would finish her degree. At age 73, she says it's never too late to go back to school or to keep your promises.     
Christina Kurt was a college basketball player on full scholarship contemplating a career in professional basketball in Europe. Multiple concussions derailed those plans. She's now an advocate for education, for athletes and the public, about the effects of multiple concussions on athletes, specifically in women. She's graduating with a degree in political science.
Five super-achieving students finished college almost as soon as they started. They are Greater Texas Foundation (GTF) Scholars, part of a program that supports graduates from recognized Texas Early College High Schools to graduate with their baccalaureate degrees from UH within two years. GTF Scholars have typically earned an associate's degree or substantial college level credit hours while earning their high school diploma, many entering the University as juniors.
Youngest graduate: Omar Harmouche, 18 years old, bachelor of science/biology
Oldest graduate: Christopher Gantela, 78 years old, Ph.D./geophysics
For assistance reaching any of these students, please contact Marisa Ramirez at 713-743-8152 or mrcannon@uh.edu.
Requests for University Commencement media credentials are due by Tuesday, May 12.  Please click here to fill out and submit the request form.
---