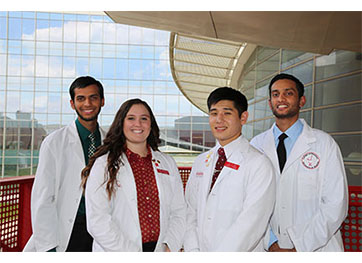 University of Houston (UH) pharmacy students wrapped up the spring semester with awards for excellence in professional service, clinical skills and disease management, earning kudos at the state level from the Texas Society of Health-System Pharmacists (TSHP).
Competing against more than 60 teams from across Texas, Pharmacy Doctorate (Pharm.D.) students won in both the clinical skills and disease state management competitions.
In the clinical skills competition, students must demonstrate their abilities in patient consultation, based on typical information found in a patient chart. Working off patient history and physical exam documents, lab test results, X-rays, physician notes and orders, and medication profiles, the teams are tasked with reviewing the patient case and developing a therapeutic plan to identify problems, strategy and monitoring. The goal is to best identify and assess all acute and chronic medical issues, drug-related problems and health care needs of the patient.
The teams were given three minutes to present their assessment and recommendations to a panel of three judges. This was followed by a seven-minute question and answer session in which the teams explained their rationale and defended their assessments and recommendations. Specific questions about drugs, pharmacotherapy and disease states were asked to assess the depth of knowledge and understanding of clinical pharmacology, toxicology and therapeutics of the team members.
Repeating last year's success in the second-year category, Sunny Bhakta and Salman Farooqui won the third-year award this time around. Marissa Blumenthal and Eric Kao were this year's winners in the second-year category. Each winning team member received a $75 cash prize, plaque and complimentary registration to the 2016 TSHP Annual Seminar.
Bhakta also emerged victorious in the disease state management competition. Individual contestants were challenged to establish a disease management program in an outpatient pharmacy as part of a collaborative practice arrangement with a local physician. In an effort to help physicians improve therapeutic outcomes and quality of life, these future pharmacists were tasked with educating patients about various diseases, the proper use of medications and relevant self-monitoring techniques, as well as assess their compliance. The contest participants also had to demonstrate proficiency in evaluating patient medication regimens and responses to therapy.
The students were given 10 minutes to review information on a disease management program and a patient's medication profile and refill history, then evaluate the patient's medication regimen and compliance. Following that, they had 10 minutes to interact with the patient, evaluating responses to therapy, patient knowledge, proper use of medications and self-monitoring habits. Three judges evaluated the process, with one playing the role of patient and the other two observing the interaction.
Bhakta, who was chosen as the winner from among 14 other undergraduate pharmacy students from across the state, received a $75 cash prize, certificate and complimentary registration to the 2017 TSHP Annual Seminar.
Also bringing home accolades was Phuoc Anne Nguyen, who was honored with the Leo F. Godley and Ann Godley Residency Fellowship Award. Nguyen, who earned her Pharm.D. in 2013 and recently graduated from the UH College of Pharmacy with a Master of Science in Pharmaceutical Health Outcomes and Policy, will complete her M.S./Residency program this summer at the Michael E. DeBakey Veteran Affairs Medical Center in Houston.
The M.S./Residency program is designed to train the next generation of health-system pharmacy leaders in collaboration with seven fellow Texas Medical Center health systems. Over a two-year period, each participant must complete a post-graduate year pharmacy practice residency and a post-graduate year pharmacy administration residency at a participating health care institution, while also completing a master's degree in pharmaceutical health outcomes and policy. The overall goal of the program is to improve patient outcomes by combining intensive experiential training in a range of practice and administrative areas of health-system pharmacy, as well as extensive coursework and projects in the areas of biostatistical analysis, finance, marketing and management.
Receiving $500 and a plaque in recognition of this prestigious fellowship, Nguyen says her interest in public health and pharmacy stems from her past experiences with malaria and poverty. Born and raised in Vietnam until the age of nine, she witnessed her mom having to walk several hours to the nearest city to retrieve a life-saving antimalarial drug for her. Nguyen saw firsthand how the lack of health care accessibility and affordability left many families suffering after losing loved ones to widespread communicable diseases in the village where she lived. She believes public health and pharmacy can come together to improve patients' quality of health and strengthen health care systems.
"We are impressed with her positive attitude, work ethic, knowledge base and professionalism. Anne is intelligent, hardworking and very well organized," said her nominator and residency director Richard M. Cadle. "She demonstrates a commitment to our veterans' pharmacy needs and independently seeks information to assist in their care. I feel we have a challenging program with multiple complex medical center issues. Anne has been very successful in our residency program and has met these challenges."       
###
About the University of Houston
The University of Houston is a Carnegie-designated Tier One public research university recognized by The Princeton Review as one of the nation's best colleges for undergraduate education. UH serves the globally competitive Houston and Gulf Coast Region by providing world-class faculty, experiential learning and strategic industry partnerships. Located in the nation's fourth-largest city, UH serves more than 39,500 students in the most ethnically and culturally diverse region in the country.
About the UH College of Pharmacy
For more than 65 years, the University of Houston College of Pharmacy (UHCOP) has shaped aspiring pharmacists, scientists and researchers. The college offers graduate degrees in pharmacy administration, pharmacology and pharmaceutics, a professional pharmacy degree, combined professional/graduate degrees, and post-graduate residency and fellowship programs. With facilities on the UH campus and in the Texas Medical Center, the UHCOP is accredited by the Accreditation Council for Pharmacy Education.
To receive UH science news via email, sign up for
UH-SciNews
.
For more information about UH, visit the university's
newsroom
.
For additional news alerts about UH, follow us on
Facebook
and
Twitter
.
---