Dan E. Wells, a longtime faculty member, department chair and interim dean, has been appointed the next dean of the University of Houston College of Natural Sciences and Mathematics (NSM).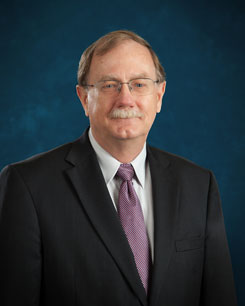 Serving as the interim dean since February 2013, Wells will continue to guide and oversee the 210 faculty members that span across the college's six departments of biology and biochemistry, chemistry, computer science, Earth and atmospheric sciences, mathematics and physics.
"I appreciate Dean Wells' leadership as interim dean and for accepting this important responsibility," said Paula Myrick Short, Senior Vice President and Provost. "The University of Houston has accomplished much in recent years, and the College of Natural Sciences and Mathematics plays a key role in the University's efforts in student success and national competitiveness."
Prior to beginning his service as interim dean, he was chair of the Department of Biology and Biochemistry.
"Developing a five-year strategic plan for the College is my top priority," said Wells. "The College benefits from a strong faculty with research programs and expertise in many areas, including energy and biomedicine. My plan is to capitalize on our collaborations with industry, health care and NASA, placing NSM in the position to impact both the local and global community."
With more than 1,050 graduate students and 4,300 undergraduate majors in the College, Wells also ranks student success programs and accelerating graduation rates as high priorities.
"Our science and math courses impact every student at UH," Wells said. "It is our goal to continue to add innovative teaching methods to our entry-level classes and to support student success programs aimed at helping STEM majors excel at UH and after graduation."
Consistently recognized for his teaching, research and mentoring, Wells received the University's Excellence in Research and Scholarship Award in 1997, the Cooper Award for Excellence in Teaching in 1998 and UH's Career Teaching Excellence Award in 2011. He received two National Science Foundation (NSF) grants for teaching and undergraduate research, was the principal investigator of a student success grant from the Texas Higher Education Coordinating Board, and served as co-principal investigator (co-PI) for the NSF ADVANCE grant and the Louis Stokes Alliance for Minority Participation grant. He is currently the co-PI for a Howard Hughes Medical Institute grant focused on student success in biology, chemistry, physics and mathematics. At UH, he has graduated 19 master's students and 18 doctoral students and worked with 27 undergraduates on research projects.
His research focuses on genetics. One of his long-term interests is the molecular and genetic characterization of a series of human syndromes characterized by defects in proper cartilage and bone development. Wells has published 90 research articles, with 46 of them focusing on human genetic disease.
Wells earned his Ph.D. in cell, molecular and developmental biology from Indiana University in 1983. Following his Ph.D., he was awarded an American Cancer Society postdoctoral fellowship at Stanford University School of Medicine. He received his bachelor's degree in biology and master's degree in zoology, both from California State University.
###
About the University of Houston
The University of Houston is a Carnegie-designated Tier One public research university recognized by The Princeton Review as one of the nation's best colleges for undergraduate education. UH serves the globally competitive Houston and Gulf Coast Region by providing world-class faculty, experiential learning and strategic industry partnerships. Located in the nation's fourth-largest city, UH serves more than 40,900 students in the most ethnically and culturally diverse region in the country. For more information about UH, visit the university's
newsroom
.
About the College of Natural Sciences and Mathematics
The UH College of Natural Sciences and Mathematics, with 193 ranked faculty and nearly 6,000 students, offers bachelor's, master's and doctoral degrees in the natural sciences, computational sciences and mathematics. Faculty members in the departments of biology and biochemistry, chemistry, computer science, earth and atmospheric sciences, mathematics and physics conduct internationally recognized research in collaboration with industry, Texas Medical Center institutions, NASA and others worldwide.
To receive UH science news via email, sign up for
UH-SciNews
.
For additional news alerts about UH, follow us on
Facebook
and
Twitter
.
---