Cougar Pride runs deep at the University of Houston … but it also extends into the community. UH faculty, staff and students regularly engage in efforts to help others or contribute to the city. UH has again been recognized for such efforts.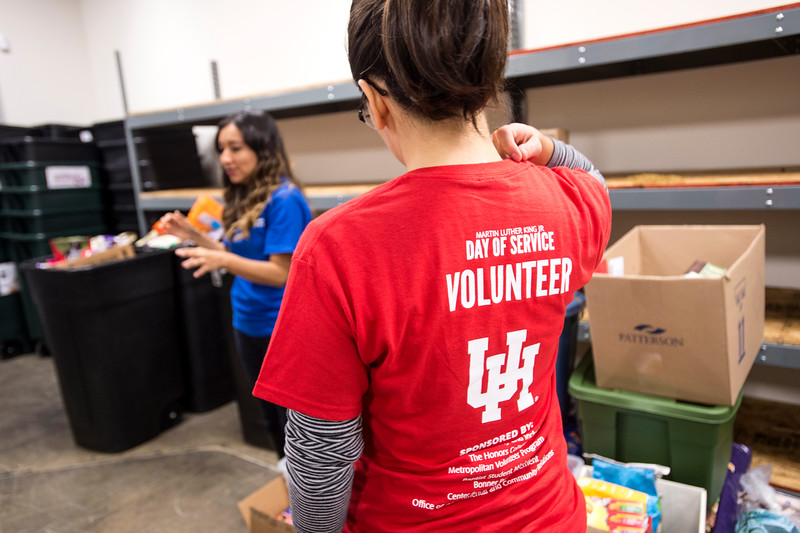 For the second year in a row, UH was named to the President's Higher Education Community Service Honor Roll presented by the Corporation for National and Community Service. UH was named as a member of the Honor Roll with Distinction. It is the only public institution from Texas to earn a place on this list.
Projects that pushed UH into this elite roster of community-serving organizations include:
Graduate College of Social Work's Office of Field Education -  connecting students with field internships that impact lower income neighborhoods or medically underserved or marginalized communities.
Houston Public Media – delivering educational and cultural broadcast programming to Southeast Texas.
UH College of Optometry's Mobile Eye Institute – providing eye care and optometric services in medically-underserved areas of Houston
"Service and higher education go hand in hand," said Wendy Spencer, CEO of the Corporation for National and Community Service. "These schools are inspiring young leaders to roll up their sleeves and work alongside community members to solve problems. By recognizing the institutions who are leading the way to achieve meaningful, measurable results for the communities they serve, we also highlight the vital role all colleges and universities play in addressing community challenges and placing more students on a lifelong path of civic engagement."
According to the most recent "Volunteering and Civic Life in America" report, approximately 3.1 million college students dedicated more than 118 million hours to community service nationwide. Their hard work was estimated to be valued at $2.5 billion.
In addition to the initiatives that helped UH earn a place on the Honor Roll, other Cougar-driven projects are making a difference in the community. Recently, students in UH's Bonner Leaders Program began the process of creating a Campus Kitchen to combat food insecurity in the Third Ward. UH's Office of Sustainability also contributes to this cause by contributing produce from the Campus Community Garden to local food pantries. Coogs also volunteer at the Houston Food Bank during the annual Martin Luther King Day of Service. UH students also are working with Houston's Project Row Houses to assist in the renovation of Emancipation Park in the, Third Ward and tutoring children at the Self-Help for African People Through Education Community Center. UH's Metropolitan Volunteer Program (MVP) also connects students with community partners for service projects. MVP initiatives include campus and community clean up events such as "Rock the Campus" and "Rock the Block."  UH also partners with the city of Houston for the Mayor's Back to School Festival, an event providing school supplies, immunizations and other resources to 25,000 students from across the city. The University also serves as the host for the annual March for Babies -- benefitting the March of Dimes. Other community outreach and volunteering efforts include those by colleges, departments and student organizations.
The Corporation for National and Community Service is a federal agency that engages more than 5 million Americans in service through its AmeriCorps, Senior Corps, Social Innovation Fund, and Volunteer Generation Fund programs, and leads the President's national call to service initiative, United We Serve.
The University of Houston is a Carnegie-designated Tier One public research university recognized by The Princeton Review as one of the nation's best colleges for undergraduate education. UH serves the globally competitive Houston and Gulf Coast Region by providing world-class faculty, experiential learning and strategic industry partnerships. Located in the nation's fourth-largest city, UH serves more than 40,900 students in the most ethnically and culturally diverse region in the country. For more information about UH, visit the University's newsroom at http://www.uh.edu/news-events/.
---