The Center for Arts Leadership at the University of Houston will present the second Leadership in the Arts Summit 2015 from 9:30 a.m. to 5 p.m., April 6 at the Student Center Ballroom (Room 210 – Student Center South) at the University of Houston.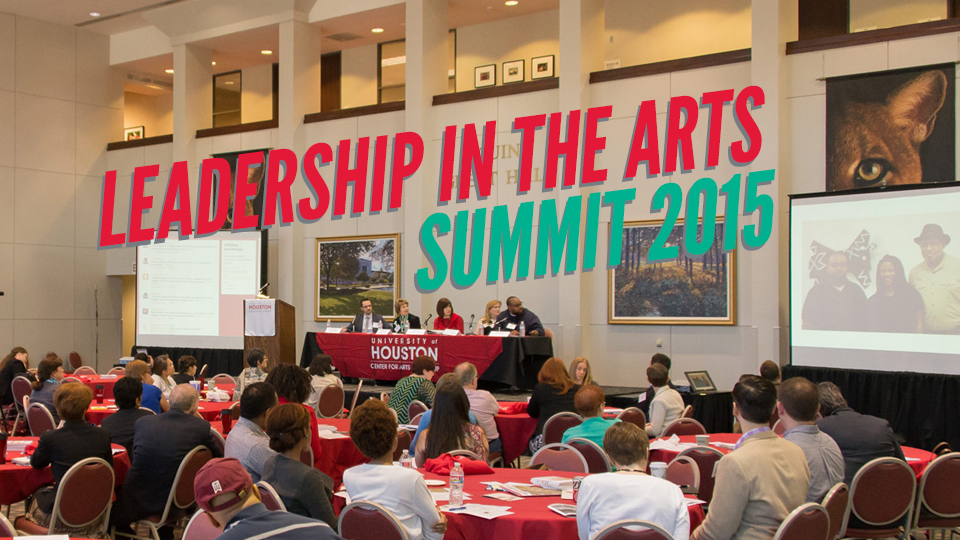 The event invites artists, arts professionals, community members and University students and faculty to envision a 21st-century arts community. This year's focus is on stewarding audiences.  With the shifts in demographics, technology, funding streams and an increase in "competition," the summit will feature a distinguished lineup of speakers and panelists to discuss artist engagement, marketing efforts, technology-initiatives, advisory groups and special event programming. 
With featured speakers, panel discussions and small-group conversations, the second Leadership in the Arts Summit explores best practices, underlying philosophies and policy ramifications about long-term audience engagement and its effects on arts organizations, communities and artists.
This event's keynote speaker is Roberto Bedoya, executive director of the Tucson Pima Arts Council (TPAC). Bedoya has consistently supported art-based civic engagement projects and advocated for expanded definitions of inclusion and belonging throughout his career.  He established the innovative People, Land, Arts, Culture and Engagement (P.L.A.C.E) Initiative to support artist initiatives in Tucson, Arizona. Bedoya's tenure as executive director of the National Association of Artists' Organizations from 1996 to 2001 included serving as co-plaintiff in the lawsuit Finley vs. National Endowment for the Arts. His essays "U.S. Cultural Policy: Its Politics of Participation, Its Creative Potential" and "Creative Placemaking and the Politics of Belonging and Dis-Belonging" reframed the discussion on cultural policy to shed light on exclusionary practices in cultural policy decision making. Bedoya is also a poet, whose work has appeared in numerous publications. He also is an art consultant with projects for Creative Capital Foundation, the Ford Foundation, The Rockefeller Foundation and the Urban Institute.
"Mr. Bedoya is one of the leading thinkers and in the country around the interactions among artists, communities, organizations and policies," said Sixto Wagan, director for the Center for Arts Leadership. "At TPAC, he has helped to address systemic issues through long-term community-based and arts-engaged work. His experience as a policy maker and thought leader on national and local issues will be a source of insight."
Other presenters include:
Sandra Bernhard, director of Houston Grand Opera Community Outreach
Robin Reagler, executive director of Writers in the Schools
Shannon Buggs, director of communications for UH's College of Liberal Arts and Social Sciences and board member for Writers in the Schools
Reginald Adams, public artist and community developer
Annie Arnoult , independent choreographer
Jon Deal, developer and owner of Deal Company
Rachel Hull, director of education and community Enrichment, Dallas Theater Center
Marian Luntz, director of Film at Museum of Fine Arts, Houston
Michelle Mower, filmmaker, writer and producer
Susan Rogers, UH assistant professor and director of the Community Design Resource Center
Sandra Zalman, UH assistant professor of art history
For updates on "The Leadership in the Arts Summit" and a schedule of panels and presentations, visit the event's website.
The UH Student Center is at Entrance 1 off Calhoun Road. Parking is available across the street at the University's Welcome Center and Parking Garage.
The 2015 Leadership in the Arts Summit is sponsored by the College of Liberal Arts and Social Sciences and the UH Arts initiative with support from the UH Center for Public History Lecture Series and the Houston Endowment.
UH's Center for Arts Leadership connects the University with artists and creative professionals and facilitates dialogue on the management and direction of the arts in Houston and beyond. The University offers a master's degree in arts leadership through the School of Art. For more details on the Center for Arts Leadership, visit its website.
The University of Houston is a Carnegie-designated Tier One public research university recognized by The Princeton Review as one of the nation's best colleges for undergraduate education. UH serves the globally competitive Houston and Gulf Coast Region by providing world-class faculty, experiential learning and strategic industry partnerships. Located in the nation's fourth-largest city, UH serves more than 39,500 students in the most ethnically and culturally diverse region in the country. For more information about UH, visit the University's newsroom at http://www.uh.edu/news-events/.
---