The University of Houston is working to make campus recycling easy, but it takes the commitment of Cougars to keep plastics, glass, paper and aluminum out of local landfills.
Since February, UH has been competing against nearly 400 universities in the 2015 Recyclemania Tournament. Each week, the University reports the amount of recycling and waste reduction collected to Recyclemania officials. Recyclemania winners receive national recognition, as well trophies made out of recyclable materials. Most importantly, they can take pride in contributing to their communities and the environment.
The contest draws to a close on March 28, and UH's Office of Sustainability is counting on Coogs to continue recycling.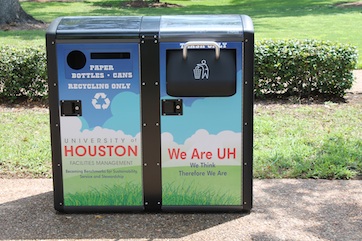 With receptacles located throughout campus – including more than 90 highly visible Big Belly single stream receptacles – Cougars have myriad options for properly disposing of reusable materials (including glass). Soon, the campus community will have an opportunity to recycle electronics that may be cluttering their closets.
From 8 a.m. – 1 p.m. on March 26, UH's Office of Sustainability will partner with Bass Computer Recycling to host an electronics recycling drive in front of the Student Center South.
Only electronics will be accepted at this drive. Accepted items will include mainframes, cables/wires, home and cellular phones, networking equipment, testing equipment, VCR and DVD equipment, computers, circuit boards, scanners, servers, drives, monitors, printers, integrated circuits, power strips and fax machines. No UH-owned materials will be accepted at this drive. Also, no large household appliances or televisions will be accepted. Visit the Bass Recycling website for additional details on items that will be accepted.
"Recycling is the gateway to sustainable living," said Sarah Kelly, program manager for the Office of Sustainability. "Once you start assessing how much waste you produce, you begin considering other ways to live more sustainably."
This is the fifth year UH has participated in Recyclemania. UH is participating in several categories of the competition: Grand Champion, Per Capita Classic, Gorilla Prize and Targeted Materials (cardboard, waste minimization). More details on how the campus community can contribute to the competition are available at the Office of Sustainability's Recyclemania page.
Although classes won't be in session March 16 – 22, Coogs can still participate in the #UHRecyclemania Spring Break Challenge. Faculty, staff and students can upload photos to Twitter to show their sustainable Spring Break activities. To participate, follow @UHSustain on Twitter and tweet activities using words such as "reduce," "reuse," "recycle" and "zero waste." Use #Houston and @Recyclemaniacs in tweets. The participant with the most retweets and favorites receives a free Zipcar membership and a $50 Zipcar credit. All participants will be entered into a raffle for a Kindle Fire HD. Review complete details on UH's Recyclemania calendar page.
Recycling is just one way UH maintains a sustainable campus. Other efforts include trayless dining, green commuting tips, filtered water refill stations (reducing the plastic bottle waste) and utilizing solar energy to power the offices of UH's Central Utility Plant. Through the efforts of the Office of Sustainability and other departments, the University is regularly featured in the Princeton Review's Guide to Green Colleges. Additionally, UH hosts annual events aimed at promoting awareness of sustainable practices and is home to the Campus Community Garden, which delivers produce to local food pantries.
"Sustainable efforts at UH have come far but there's so much more we can do," Kelly said. "I encourage every member of the UH community to get involved and start living more sustainably every day so we can leave behind a legacy of environmental stewardship, economic prosperity and social equity."
---