Since its inception in 1939, Frontier Fiesta at the University of Houston has acted as the embodiment of student pride, Cougar tradition and community outreach.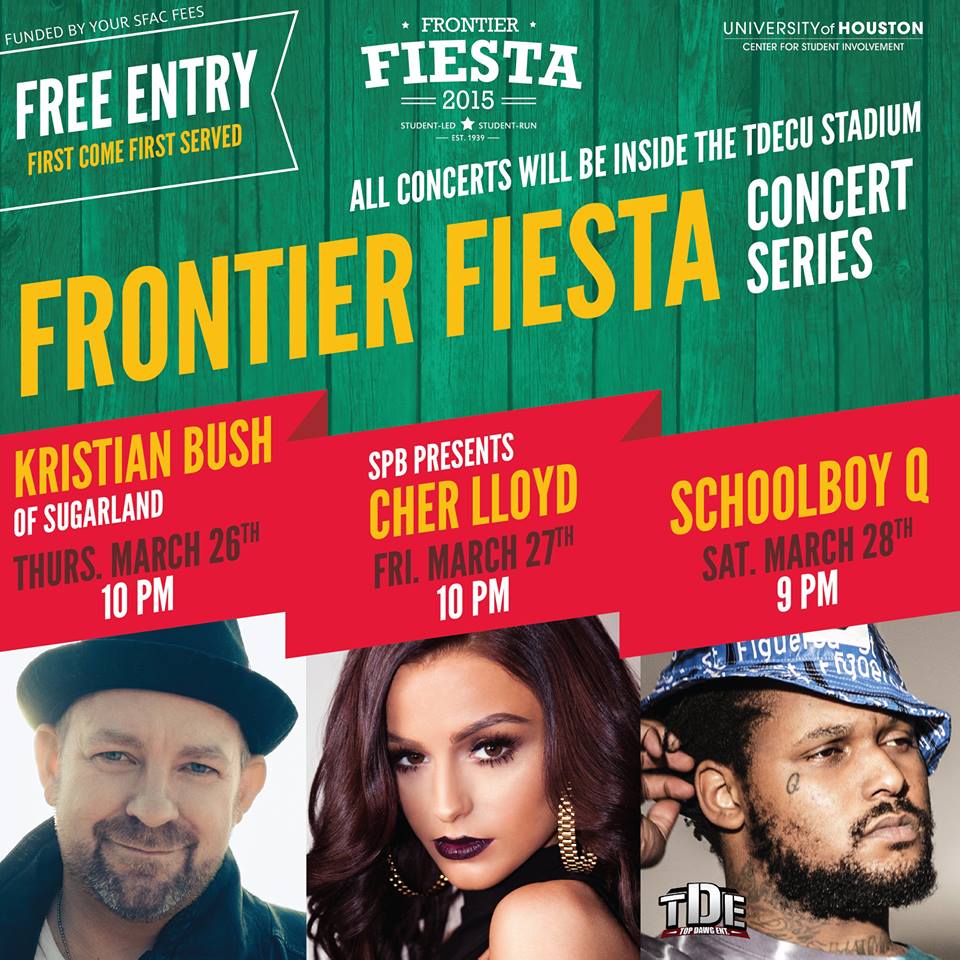 This year, UH's oldest student-run event returns to its old stomping grounds off Cullen Boulevard. For years, Frontier Village occupied the Robertson Stadium parking lot. Now, the festival site is in the lot adjacent to UH's new TDECU Stadium. Featured concerts will take place inside the stadium. The western-themed festival, which runs March 26-28, features its biggest concert lineup to date and plenty of carnival rides, games and activities for audiences of all ages. Admission to the Frontier Fiesta fairgrounds and concerts is free to the public.
Frontier Fiesta officially kicks off at 4 p.m., Thursday, March 26. Kristian Bush of the hit country music duo Sugarland will headline that night at 10 p.m. Doors open for the concert at 8 p.m. Bush has won six Broadcast Music, Inc. Awards for his songwriting and numerous music awards with Sugarland, including two Grammys, four Academy of Country Music Awards and an American Music Award.
Singer-songwriter and former X Factor UK contestant Cher Lloyd is the featured concert artist on March 27. Widely known for her hit singles "Want U Back" and "With Ur Love," Lloyd will perform at 10 p.m. Doors open at 8 p.m.
Hip-hop artist Schoolboy Q will close off the festival with a performance at 9 p.m., Saturday, March 28. Doors open at 7 p.m. His debut studio album "Oxymoron" had three hit singles, "Collard Greens," "Man of the Year" and "Studio," make the U.S. Billboard 100, and it was nominated for Best Rap Album at the 2015 Grammys.
Frontier Fiesta will also feature several activities geared toward families, scholarship and community involvement. Family Fun Day is March 28. Coogs of all ages can participate in the 5K for the Brave: Hope, Steps & A Cure Walk. The walk starts at 9:30 a.m. and benefits the Aplastic Anemia & MDS International Foundation. Other activities this day include professional face-painting, a trackless train ride, a digital graffiti wall and an inflatable obstacle course. The day will also include a performance by the Spirit of Houston Marching Band.
During Frontier Fiesta, UH students will showcase their talents at variety shows while more than 40 teams representing UH alumni associations and other organizations will showcase their cooking talents at the Frontier Fiesta Cook-Off and Bake Fiesta. The Frontier Fiesta Association will also highlight academic achievement and community service by awarding scholarships to outstanding incoming freshmen and current students.
Frontier Village hours are:
March 26: 4 p.m. – midnight
March 27: 5 p.m. – midnight
March 28: noon – 1 a.m.
A full list of activities and more information is available at http://www.uh.edu/fiesta.
---