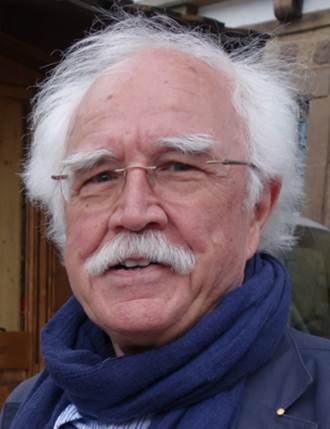 Herbert C. Freyhardt, research professor at the Texas Center for Superconductivity at the University of Houston (TcSUH), has received the International Cryogenic Materials Conference Lifetime Achievement Award.
The award recognizes lifetime career achievement in advancing the knowledge of cryogenic materials, based on the quality, innovation and impact of the candidate's research, as well as international recognition for the work and the international reputation of the scientist.
He was the sixth recipient of the award, presented at the Cryogenic Engineering Conference and International Cryogenic Materials Conference in Tucson, Arizona.
Freyhardt, who joined UH after decades at the University of Göttingen, was cited for his work in developing type II superconducting materials for practical applications, promoting the understanding of the effects of flux pinning on the applied properties of these materials and for his general contributions to the field of superconductivity.
David Cardwell, Professor of Superconductivity at the University of Cambridge and chair of the awards committee, praised Freyhardt's body of work.
"It is both a privilege and pleasure for the ICMC (International Cryogenic Materials Conference) Board, on behalf of the worldwide cryogenic materials community, to present the 2015 Lifetime Achievement Award to Professor Herbert C. Freyhardt," he said. "Herbert's high-quality research combined with tireless efforts to serve the community and to advance the field of superconductivity, and particularly regarding its industrial application, make Professor Freyhardt an excellent award recipient."
Freyhardt received the IEEE Council on Superconductivity Award for Continuing Significant Contributions to the Field of Applied Superconductivity in 2006.
He is known for fostering scientific collaborations, as well as for targeting cooperation with industry, which has been crucial to moving superconductivity from the lab to the real world. Most of his research has been within the field of solid state physics, ranging from flux pinning and critical currents to composite superconductors, bulk high temperature superconductors, coated conductors and thin films.
In the 1970s, Freyhardt convened scientists from around the world to discuss the interaction between individual flux lines in type-II superconductors and individual metallurgical defects, spurring further research in what was at the time a controversial topic.
He also was a pioneer in developing ion beam assisted deposition, or IBAD, techniques for YBCO (yttrium barium copper oxide) tapes and coated conductors in the late 1980s.
Freyhardt has helped lead several organizations, including serving as president of the International Cryogenic Materials Conference board from 2000—2005. He founded the European Conference on Applied Superconductivity, which was first held in Göttingen in 1993, and is a former board member for the Applied Superconductivity Conference. In addition, he established and co-founded The Zentrum fur Funktionswerkstoffe (Center for Applied Materials Research) as a nonprofit organization in collaboration with the University of Göttingen in 1993; Freyhardt continues to manage the enterprise.    
---