In the end, it's all about the cars. But for students from the University of Houston and Elsik High School, the path to the Shell Eco-Marathon Americas 2015 has offered much more – learning, mentoring and the opportunity to put classroom lessons into action.
Three UH students will head to Detroit April 9-12 for the Eco-Marathon – a competition sponsored by the energy company challenging students from around the world to design, build and drive the most energy efficient cars. Students from the Alief Independent School District (AISD) will also compete, driving a car built with help from the UH students.
What started as a plan for UH students to mentor the high school students and share their work space has grown into a true partnership, as the high school students stepped up to provide welding, craftsmanship and other support.
"We knew it would be a big and complex project," said Robert Guerra, leader of the UH team, Red Octane. "We didn't expect the Alief students to play such a major role."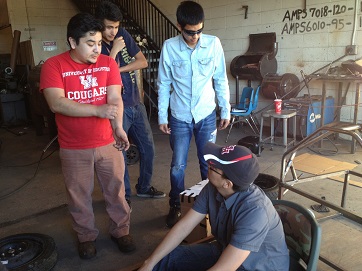 He and UH teammates Alberth Chavez and Giovani Guzman, all senior mechanical engineering technology students, will enter the competition with a car using a compressed natural gas (CNG) engine. The AISD students' car has an engine using "gas-to-liquids" or GTL fuel. Shell will provide the fuel; they use diesel for testing.
Students from the Elsik High School's automotive technology, welding and aerospace engineering program, as well as from Hastings High School, are involved in the project, working as Team Blue Cetane. Both high schools are in AISD.
Ernest Lozano, the auto technology instructor at Elsik, said the students have used math and other academic skills in learning to read a blueprint as they build the car frames, fit the driver's seats and complete other details.
"They've had to apply geometry, physics, which they've never done before," he said. "I've had to step back and just be the tour guide. To watch them just blossom, it's what school ought to be like."
Guerra and his UH classmates built a prototype car for last year's Eco-Marathon – the competition had been held at Houston's Discovery Green for the past few years but moved to Detroit this year – and when he mentioned the project to his girlfriend's sister, who is a counselor at Elsik, she suggested it as an opportunity for students there. Elsik Principal Hilda Rodriguez agreed, as did Bill Marshall, director of career & technical education, and other district administrators.
Still, Guerra said he didn't expect the students to take such ownership. He said the UH students have functioned as true engineers – providing blueprints and working with the Alief students to offer direction, helping with the work when necessary.
And just as the work has given the Elsik students a real-world taste of what they are learning in the classroom, the UH students say the Eco-Marathon – which they are using as the senior project required of all engineering and engineering technology students – has brought their own classwork to life.
"We've learned all the fundamentals," Chavez said. "Now we're trying to prove them through building something."
Eco-Marathon rules limit each car to 500 pounds, although Raresh Pascali, instructional associate professor of engineering technology at UH, set the limit at 450 pounds to add an additional challenge. Chavez said the cars will probably average about 15 mph – top speed allowed is 25 mph – and the UH students are hoping to attain the equivalent of about 250 mpg with the CNG engine.
UH is one of only two teams entered in the CNG category, illustrating how tricky it remains to design and build a CNG engine. But winning in Detroit isn't the only goal.
"Whatever happens in Detroit is a bonus," said Lozano, noting that the high school team includes a sophomore and several junior students, building a foundation for the future.
Guerra is thinking of future Eco-Marathons, too, even though he will graduate from UH in May.
"One thing we want to do is make sure the high school students leave a legacy," he said. "We want to do all the training we can, to leave them with the tools to compete in future years."    
Each team has a website. For more information, visit the UH Red Octane site at RedOctane.Uni.Me
And Alief's Team Blue Cetane site at http://www.elsikbluecetane.com/
---