Top Stories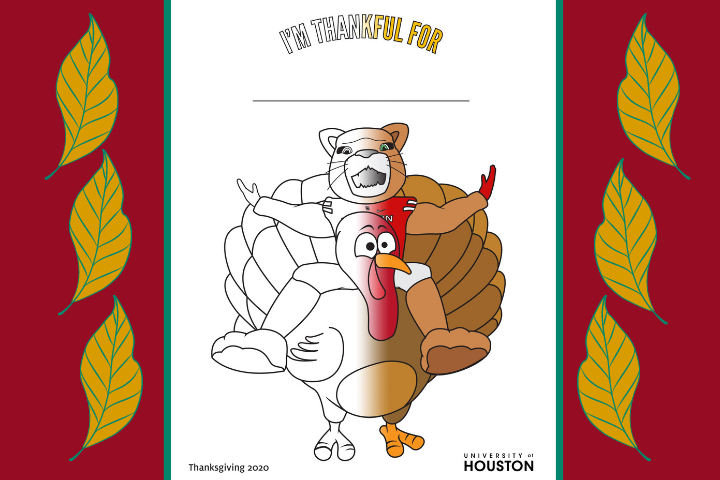 Enjoy the Color of the Season
Wishing a very happy and safe Thanksgiving to our Cougar family. Relax and enjoy this UH-themed Thanksgiving coloring sheet. We encourage you to share your fun designs with us by posting them on social media and tagging us using @UHouston on Twitter, and @universityofhouston on Facebook and Instagram. Read more …
---
UH Researcher Considers When – and If – We Should Consider Artificial Intelligence a Failure
The failures in machine learning systems range from the harmless to the potentially deadly. New work from Associate Professor of Philosophy Cameron Buckner suggests that common assumptions about the cause behind these supposed malfunctions may be mistaken, information that is crucial for evaluating the reliability of these networks. Read more …
---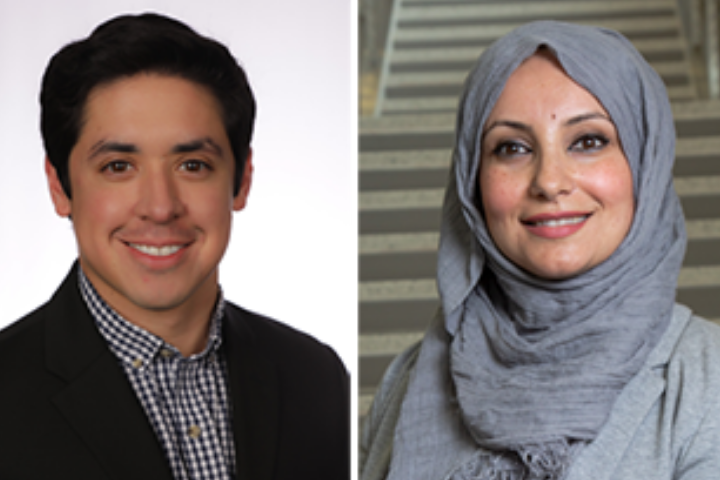 Grant Funds Enhanced Substance Use Disorder Training in Pharmacy, Medicine Curricula
UH College of Pharmacy's Austin De La Cruz, Pharm.D., BCPP, clinical assistant professor, and Tamara Al Rawwad, Ph.D., MPH, postdoctoral fellow, have been awarded a two-year, $200,000 grant from the U.S. Substance Abuse and Mental Health Services Administration. They will use the grant to develop and integrate substance use disorder education into professional pharmacy and medicine curricula. Read more …
---
Survey Seeks to Understand COVID-19 Impact on UH Asian American Community
College of Education doctoral students Rosa Nam and Abbey Bachmann partnered with the Asian American Studies Center on campus to better understand how Asian American faculty, staff and students at UH have been affected by the COVID-19 pandemic. The findings will be presented to Center to enhance programming and support for Asian Americans on campus. Read more …
---
Reminder: COVID-19 Safety During the Holidays
As we approach Thanksgiving and the holiday season, Vice President for Medical Affairs and College of Medicine Founding Dean Stephen J. Spann explains why it is important to be more vigilant in our best practices, especially when faced with the various temptations the holidays present. Spann provides a number of simple procedures for a safe holiday season. Read more …
---
Our People
While the financial devastation caused by the pandemic and subsequent lockdowns has been well-documented, a new study led by the Conrad N. Hilton College of Hotel and Restaurant Management, identifies aspects of restaurant operations that benefitted the bottom line despite the turmoil. Assistant Professor Jaewook Kim is lead study author of the study published in the International Journal of Hospitality Management. Read more.
For the third consecutive year, the UH Police Department was ranked among the top 500 power-players by Security Magazine. This magazine ranks 500 enterprises through metrics to determine the forerunners in 20 sectors. UH is the only public Texas university highlighted and also one of two Texas universities featured on the list. Read more.
Paola Pederzoli, assistant professor in the UH Bauer College of Business Department of Finance, and her co-authors developed a novel computational methodology and revised the definition of optimal exercise. Using a richer econometric model, they found rationalization for part of the suboptimal behavior of American options investors. Pederzoli's study can be found in the Journal of Financial and Quantitative Analysis. Read more.
Our Campus
The College of Technology is the recipient of a nearly $2 million gift to endow scholarships and support new infrastructure in its UH at Sugar Land building. The gift generously comes from Heavy Construction Systems Specialists, Inc., a Sugar Land innovative software company for the construction industry, as a memorial to Sophie Rydin, wife of HCSS CEO, Mike Rydin. Read more.
For those continuing to work and learn from home, UH has released new video backgrounds for Teams and Zoom calls. The free, downloadable images include UH logos, artwork and well-known locations from around campus and are a great way to show your Cougar spirit. Read more.
Public Art of UHS created a number of ways for people to explore the new Color Field exhibition at UH, including a free self-guided tour and online content with audio clips from the artists. The large-scale sculpture exhibit provides opportunities to question our perceptions while thinking about the impact color has on our lives. Read more.