UH is home the first full-scale diagnostic lab for retinal diagnosis in the country.
 Heather Anderson, assistant professor in the UH College of Optometry, was instrumental in bringing the state-of-the-art Optometric Clinical Skills Simulation Lab to UH.
"It's teaching students the diagnostic skills that we use to look for eye diseases," said Anderson.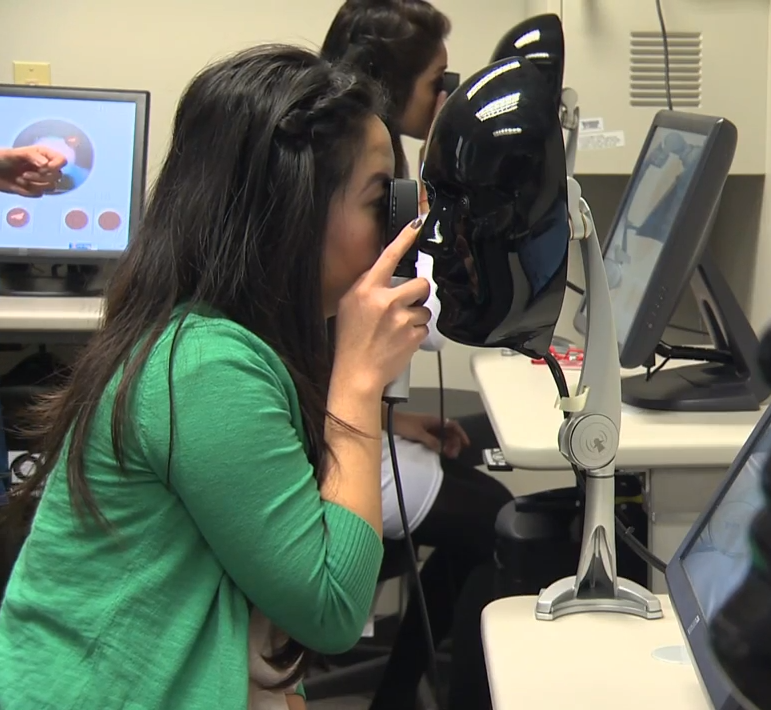 The laboratory is the largest of its kind in the world and the first to open at a college of optometry.
Fourth year student John Christman, who has spent significant time in the UH optometry clinics seeing real patients, was impressed with how lifelike the simulation was.
"I'm just amazed how real it is," said Christman, who will graduate in May.
The students see photographic images of actual patients in Germany who were used to generate the cases. 
"When you are looking through LED screens, it allows the simulator to take on the ethnicity, demographics and the age of the actual patient that is programmed in for the case," said Anderson. "As far as the student is concerned, when they are utilizing the equipment and looking at the simulators, they are seeing a real person blinking and looking back at them."
The simulation lab now gives optometry students access to virtual patients and real pathology cases as early as their first year. It offers more advanced cases to students who have already mastered the basics.
"This is a huge advantage," said Anderson. "The students were blown away when they saw the technology. They couldn't believe they would now have 24-hour access to dilated patients. Now we can create that experience in the simulation lab and give them intensive training prior to seeing actual patients."
---