The University of Houston football team enjoyed one of its most successful seasons and is Atlanta-bound for the Chick-fil-A Peach Bowl at 11 a.m. (Central Standard Time), Dec. 31. The Coogs are taking on Florida State University and are bringing a few key players … who won't even touch the ball.
The Spirit of Houston Marching Band, UH Cheerleaders, Cougar Dolls and mascots are a crucial part of the game day experience. Rain or shine, these students promote Cougar Pride even when the chips are down. It's not always an easy job, but it's one that they enthusiastically embrace.
"My favorite part is being in the middle of the action," said Cougar Doll Mercedes Srilamsingha. "Few students can say they experience college life like we do. We have the best seat in the house at all games."
The Cougar Dolls are UH's dance team that includes up to 23 members each academic year. Fans are accustomed to show stopping performances, but many are likely unaware of the Dolls' rigid practice schedule. The team rehearses five days a week in addition to performing during athletic events (football, basketball, volleyball) and pep rallies. It's a major commitment, but Srilamsingha, a junior, said that the opportunity to represent UH is well worth it.
"We are here to paint Houston red and to 'Dollinate,'" said Srilamsingha, who has performed with the Cougar Dolls for three years.
Supporting the football team during away games can be challenging, she said. Still, she and her fellow Cougar Dolls do their best to put UH on the map.
The UH Cheerleaders also are up to the task. Just ask senior Chelsea Villars. She's a bowl veteran having supported the Coogs during last year's historic comeback victory at the Lockheed-Martin Armed Forces Bowl.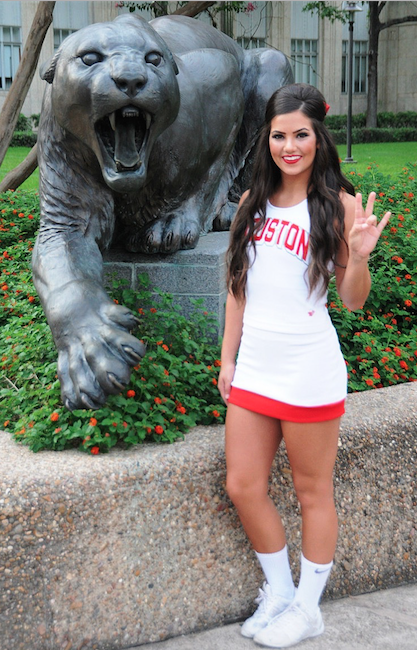 This year's event, however, takes both the team and the spirit ambassadors to an even grander stage, she said.
"This season has been unreal," she said. "Being on a national stage definitely makes things more exciting for us. We get to go out there and represent our university and support the team. Still, we're focused on our main goal and that's promoting school spirit. In these kinds of situations, things just come naturally for all of us. It really brings a new level of excitement and joy to our performance because we know how big this is."
Villars is among the 19 students (men and women) comprising the cheer squad. In addition to entertaining fans throughout the year at UH athletics events, the group also will compete at the National Cheerleading Association Collegiate Cheer Championship in April in Daytona Beach, Fla.
A significantly larger group with the same goal of entertaining fans and inspiring the team is Spirit of Houston Marching Band. With nearly 400 musicians, the group balances volume with precision as it revs up fans in the stands and dazzles them with mesmerizing marching displays during halftime.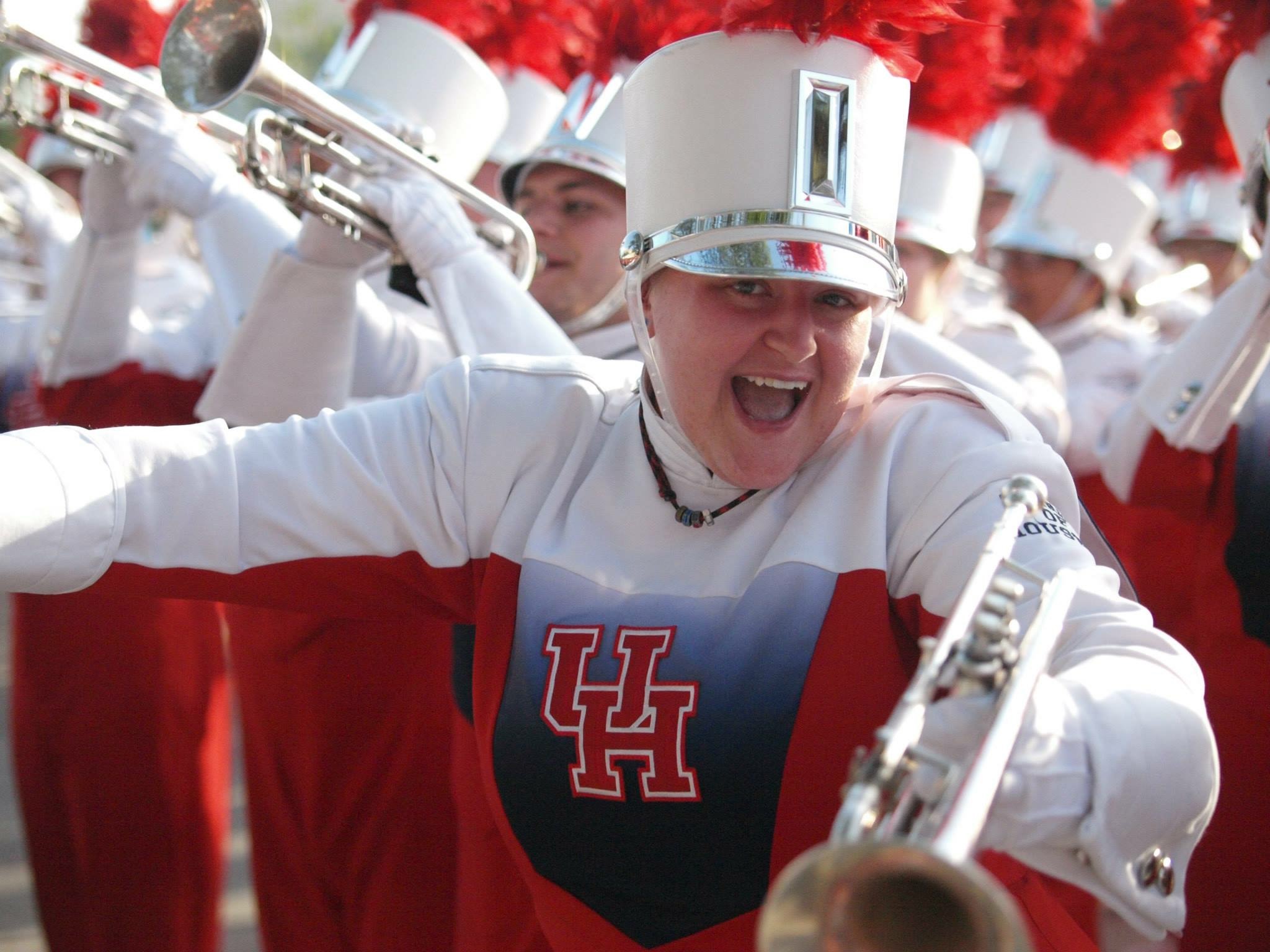 "The Spirit of Houston is a necessary part of the game day experience," said senior trumpet player Alex Pinell. "The players are used to hearing us play the fight song, and the crowd expects certain songs from us. Plus, the halftime show provides a different form of entertainment during the game. Without us, the experience would be missing something."
Like the Dolls and Cheerleaders, Pinell and her fellow Spirit of Houston members must deliver a professional performance at the Peach Bowl, while providing encouragement for both the team and its loyal fans.
"Performing during any game is always exciting. Knowing that this is such an important bowl game is just going to make it more exciting," she said. "Ultimately, our goal is what it always is  – perform at the highest level and cheer our Cougars on to another victory!"
The Chick-fil-A Peach Bowl will be broadcast on ESPN. For more details on the game, visit the Cougar Football website.
---