Daphne Hernandez, from the Department of Health and Human Performance and the Texas Obesity Research Center, offers these tips navigate the holidays: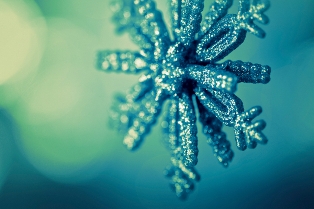 Healthy Noshing During Holiday Parties: Eat a small snack high in protein before your holiday party. This will prevent you from overdoing it on the appetizers or other party foods. After eating, chew some gum or enjoy a mint to curb extra eating.
Small Plates, Tall Glasses: Use small plates, such as a salad plate, to eat high calorie foods. This will help with eating in moderation. Although large wine goblets are in, they also encourage more liquid to be poured in and consumed. Use tall skinny glasses instead.
Plan Ahead to Give Yourself a Break: It is okay to indulge from time to time. If you know that you are headed to a holiday party, skip the dessert the night before or reduce the amount of sugar elsewhere in your diet.
Let's Get Physical: During the holidays, playing video games and watching TV increases. Turn couch potatoes into jumping beans. Play the games standing up and play games that require movement such as those that require you to jump or dance.
All in the Family: Make it a point to take a family walk (or two) every day after a full meal.  A 20-minute walk to the park or to see holiday lights will help digestion and burn calories.
Bradley Smith, professor and director of the College of Education School Psychology program, researches yoga in the classroom and offers these holiday tips to reduce stress:
Deep slow breathing is a great way to manage holiday stress. Sit up straight, close your eyes and breathe in through your nose. As you breathe in, allow your belly to fill first, pause for a count of one or two at the bottom of the breath, then slowly exhale through your nose, and pause for a count of one or two at the top of the breath. Taking longer to exhale will achieve the maximum relaxation benefits. Try this for 10 or 20 breaths with a four count on the inhale and an eight count on the exhale. You can even do relaxation breathing during a tense moment sitting at the holiday dinner table.
Wrapping gifts or visiting with friends is more relaxing with a glass of wine. Chris Taylor, director of the Beverage Management Program and Fred Parks Wine Cellar at the Hilton College, has these ideas:
Try a new wine or give something special and unique, like a sparkling Shiraz. These great food-centric bubbles pair well with everything from turkey to prime rib and are sure to excite the palate of even the most ardent of red wine detractors. Look for Australia's best examples, such as Mollydooker from the rock star wine making team of Sarah and Sparky Marques. Their "Miss Molly" comes across with lots of jammy fruit and chocolate notes. Or try "The Chook" that show more fresh fruit notes and may even be a few dollars cheaper. If you would prefer something more traditional in the sparkling wine world, try an outstanding sparkling wine from our neighboring state of New Mexico. Gruet has been producing award-winning wines that critics and publications love. Buy a bottle for around $15 or under.
Holidays mark the end of a stressful time for students, who've just finished final exams. These tips come from the UH Counseling and Psychological Services (CAPS):
Keep gift-giving simple: Everyone knows that college students have a limited budget.  Get creative with gift-giving, such as a framed photo that will be cherished by friends or family members for years to come.
Know Your Holiday Break Budget: Try to enjoy activities that are free, such as music performances or looking at holiday lights. Go the mall and window shop.  If you need to travel home, try to carpool with a friend to save on gas money.
Limit Drinking: If you are already feeling stressed out, alcohol is going to make it worse!  Limit alcoholic beverages to just 1-2, or even better, opt for healthier choices such as water or juice.
Rejuvenate Yourself: You are likely to be tired from the semester, and this is your time to relax. Enjoy simple luxuries such as a warm bath, catching up with old friends or seeing that new movie you missed during finals week.  Remember to exercise too.  A yoga class might help re-center you for both the holidays and next semester.
Remember What the Holidays are About: Remember to celebrate the true spirit of the holidays and appreciate those around you.
---