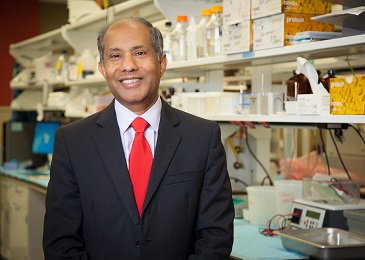 The University of Houston will host a memorial service Aug. 11 at 1 p.m. in the Moores Opera House to honor Rathindra N. Bose, vice president/vice chancellor for research and technology transfer at the University of Houston and the UH System. Bose died July 10 after a short illness.
The memorial service, "A Celebration of Life: Rathrindra "Roth" N. Bose," will be followed by a reception.  Bose was a renowned researcher, whose work made an impact in a number of areas, including medicine and energy.  Arriving at UH in 2011, Bose guided the Division of Research through unprecedented growth. For more about Bose's life and work, please visit "UH, UH System Mourn the Death of Rathindra Bose."
Bose is survived by his wife, Anima, an associate professor of engineering technology in the UH College of Technology; his daughter, Seuli, and husband, Christian; his son, Sanjeeb, and wife, Ashley; and his grandchildren, Asha and Rohan.
Remembrances and expressions of sympathy may be sent to the Bose family in care of the Division of Research, 316 E. Cullen Building, Houston, Texas 77204-2015. 
A memorial fund to continue the mission of Dr. Bose's research has been established in his name. Memorial donations may be made to The University of Houston, Gift Processing and Records, P.O. Box 867, Houston, Texas 77001-0867. Please note "in memory of Dr. Roth Bose" on memorial contributions. For more information, please contact the Division of Research at 713-743-9104 or research@uh.edu.
| | |
| --- | --- |
| What:  |    "A Celebration of Life: Rathrindra 'Roth' N. Bose" Memorial Service and Reception |
| When: |    Tuesday, Aug. 11, 1-3 p.m. |
| Where: |    Moores Opera House, University of Houston, Entrance 16 from Cullen Blvd. |
---