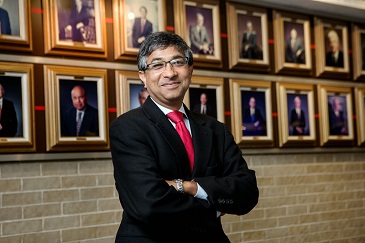 Ramanan Krishnamoorti, acting vice president/vice chancellor for research and technology transfer at the University of Houston, has been asked to testify before Congress about an innovative workforce training program developed for the energy industry.
Krishnamoorti, who also is chief energy officer at UH, Thursday will address the Energy and Power subcommittee of the House Committee on Energy and Commerce.
The new UH program, which begins next fall, involves three undergraduate certificate programs – advanced petroleum technology, advanced process technology and advanced safety technology. Students who complete two of the certificate programs can then spend an additional year to earn a bachelor of science degree in Organizational Leadership and Supervision, offered through the College of Technology.
"For the energy industry, you need to have nimble solutions," Krishnamoorti said. "You need to offer what the industry and the workforce need. Stackable certificates is an innovative way to provide the critical skills the energy industry needs and to allow energy employees to advance their careers, instead of just their jobs."
Krishnamoorti and other UH officials were in Washington, D.C., last week to meet with members of Congress, as well as representatives from the Department of Energy, about the University's role in filling the need for skilled energy workers. Among other offerings, UH offers undergraduate and graduate degrees in petroleum engineering, and the nation's only master's degree in subsea engineering.
He was asked to testify about the new program at a hearing that will focus on the 21st century energy workforce, in conjunction with legislation proposed by subcommittee member U.S. Rep. Bobby Rush of Illinois. Rush has proposed a bill to improve training for energy-related jobs, with an emphasis on increasing the number of skilled minorities and women in the industry.    
According to the Greater Houston Partnership, there is likely to be a shortfall of 70,000 "middle-skill" workers in Houston by 2017, a situation created by both rapid technological change, coupled with the lack of training programs to provide the needed skills, and the looming retirement of baby boomers in the energy workforce.
Krishnamoorti said the program developed by UH, working with area community colleges and members of industry, can be replicated by other higher education institutions once it has been demonstrated and assessed here.
The certificate programs will require hands on learning, using micro versions of the equipment used in petrochemical plants and elsewhere in the industry. Because of that, Krishnamoorti said they can't be moved entirely online; that makes sharing the idea critical for a broad national impact on the energy workforce.
Each certificate will take about five months to complete: a one-month intensive introductory course, followed by four classes, each requiring six hours of classroom time each week and lasting for half a semester (seven weeks). Students would be expected to take two courses at a time. They could skip the introductory course through competency-based testing or by having completed a related certificate or associate's degree at a community college.
The initial group of students will take classes on the UH campus, but the certificate courses ultimately could be taught at a community college, using university-accredited faculty.
---