At its very core, jazz is American music. And not unlike the country from which it emanated, jazz is a melting pot of cultural influences. Audiences soon will explore "The Latin Side of Jazz" with Noe Marmolejo and the University of Houston Jazz Orchestra.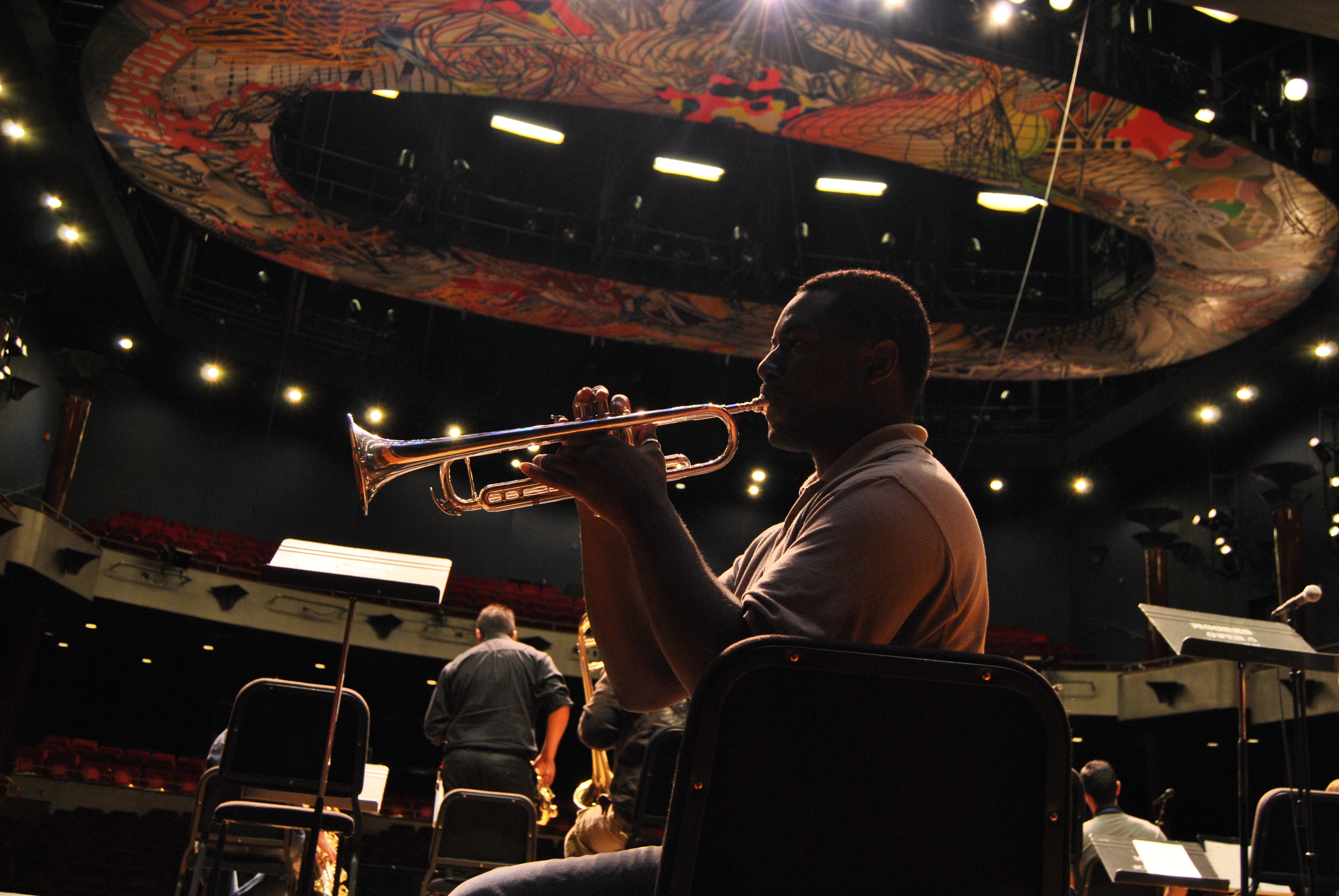 On April 22, the orchestra will join forces with guest musicians and dancers for an evening of high-energy numbers. The performance will begin at 7:30 p.m. in UH's Moores Opera House (Entrance 16 off Cullen Boulevard). Tickets for the "Latin Side of Jazz" are $12 and $7 for students and seniors.  They can be purchased through the Moores online box office or by calling 713-743-3313.
Guests artists include vocalists Kevin Castillo and Raquel Cepeda, and percussionists Ilya Janos and J.D. Guzman. Audience members also will be part of the show. Anyone wanting to dance will have access to the Moores Opera House stage.
"It takes a big group to put on a show like this. And that's exactly what this will be – a show," said Marmolejo, director of jazz studies at UH's Moores School of Music. "Audiences can't help but love this kind of music. It's very happening, very sensual. If you're a fan of upbeat Latin jazz … or even just jazz in general … you don't want to miss this show. We're doing salsa, mambo, bembé, cha cha, all of it."
Some of the music to be performed includes:
"Escucha mi son" by Oscar Hernandez
"D Train" by Jeremy Fletcher
"Este Noche" by Wayne Wallace
"Rumba Urbana" by Oscar Hernandez
"Havana" by Bill Cunliffe
"Jazz continues to expand beyond its origins in blues and swing. The growing Latino population has contributed to the music's evolution," Marmolejo said. "Latin jazz is infectious. It's hard not to appreciate it on many levels, and people from all cultures have embraced it. I'm excited to deliver this music to our audiences, and I think they'll walk away wanting much more."
This exploration of Latin jazz complements the orchestra's previous forays into other areas of genre. Last year, Marmolejo led the group through works that chronicled the roots of jazz. He can't divulge too much information on future programming but promises future performances that delve into different areas of the music.
Each spring, Marmolejo and the Jazz Orchestra deliver the annual Moores Jazz Festival, which features world-class performers conducting clinics and delivering show-stopping performances. The orchestra also hosts residencies from star players. Past guests include Terrance Blanchard, the recently deceased Lew Soloff and Bill Evans.
The Moores School of Music is one of the premier music schools in America. Offering bachelor's, master's and doctoral degrees, it serves approximately 600 students annually. Areas of study include composition, conducting, performance, theory and musicology. Its faculty consists of internationally recognized performers, composers and scholars. Among its ensembles are the Moores School Symphony Orchestra, Moores Jazz Ensemble, Moores Opera Center, Concert Chorale, Concert Women's Chorus, Spirit of Houston Cougar Marching Band, Wind Ensemble and Percussion Ensemble. A majority of the school's concerts are performed in the 800-seat Moores Opera House. For more details on the Moores School of Music, visit http://www.music.uh.edu/.
---