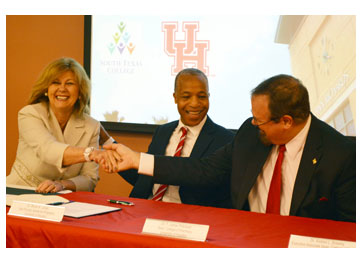 An articulation agreement signed by officials with the University of Houston College of Pharmacy (UHCOP) and South Texas College (STC) in McAllen will offer students in the Rio Grande Valley a new, streamlined pathway to earn a Doctor of Pharmacy (Pharm.D.). The aim of this agreement is to help alleviate the shortage of professional pharmacists in the rapidly growing region of South Texas.
Upon acceptance into the UHCOP-STC cooperative program during their freshman year, STC students will complete an Associates of Science from STC while simultaneously completing their prerequisite coursework and other eligibility requirements for admission into the UHCOP Pharm.D. program.
One of the benefits of being accepted into this program is that students will receive mentoring and personal assistance in preparation for matriculation into the UH Pharm.D. program. They also will receive career counseling, mentoring and networking opportunities with UHCOP alumni practicing in the Rio Grande Valley region, as well as networking and mentoring opportunities with current UH Pharm.D. students.
"This agreement with South Texas College opens a much-needed, two-way pipeline for students to seamlessly transition into the Pharm.D. program at the University of Houston and provide South Texas communities expanded access to the unique skills and knowledge of pharmacists, such as medication therapy management, to improve patient outcomes across a range of disease states, especially diabetes and hypertension," said F. Lamar Pritchard, dean of the UH College of Pharmacy.
In addition to Pritchard, UH representatives attending the March 27 agreement signing ceremony at the South Texas College campus were Bruce Jones, vice provost for Academic Programs, and Andrea Smesny, executive associate dean. STC representatives in attendance were President Shirley A. Reed, Interim Vice President of Academic Affairs Anahid Petrosian and Dean of Math, Science and Bachelors Programs Ali Esmaeili.
"This really is an honor to have the opportunity to establish this agreement with the University of Houston College of Pharmacy. It's going to open doors for our students and provide opportunities that they may not have thought were ever possible," Reed said. "We think this is just the beginning. As excited as we are about our students going into the UH College of Pharmacy, we see an opportunity for our students to articulate with every academic program at the University of Houston. This is the first academic agreement, and I don't see why we can't have 20 more that follow."
According to the 2015-16 Update to the State Health Plan released by the Texas Statewide Health Coordinating Council in January, the population-to-pharmacist ratio in border counties is about twice that of non-border counties. The report also noted a disproportionate distribution of licensed pharmacists in the state, with slightly less than 6 percent of the state's licensed pharmacists practicing in border counties, compared to more than 92 percent practicing in metropolitan counties.
"As the only Tier One public research university with membership in the largest medical center in the world, the University of Houston is preparing the next generation of leaders in health," said Paula Myrick Short, UH Senior Vice President for Academic Affairs and Provost. "We welcome the creation of a formal agreement between our two institutions to assist students in achieving their goals, while also helping to address the health needs of underserved communities across our state."
###
About the University of Houston
The University of Houston is a Carnegie-designated Tier One public research university recognized by The Princeton Review as one of the nation's best colleges for undergraduate education. UH serves the globally competitive Houston and Gulf Coast Region by providing world-class faculty, experiential learning and strategic industry partnerships. Located in the nation's fourth-largest city, UH serves more than 40,900 students in the most ethnically and culturally diverse region in the country. For more information about UH, visit the university's
newsroom
.
About the UH College of Pharmacy
For more than 65 years, the University of Houston College of Pharmacy (UHCOP) has shaped aspiring pharmacists, scientists and researchers. The college offers graduate degrees in pharmacy administration, pharmacology and pharmaceutics, a professional pharmacy degree, combined professional/graduate degrees, and post-graduate residency and fellowship programs. With facilities on the UH campus and in the Texas Medical Center, the UHCOP is accredited by the Accreditation Council for Pharmacy Education.
For additional news alerts about UH, follow us on
Facebook
and
Twitter
.
---